Please note:
LeadDesk Setup is only available for application users.
Browser users' configuration is done solemnly by your administrator.
Opening LeadDesk Set Up
Windows 8 & 10: Click Windows button (start button)> type "LeadDesk setup".
Windows 7 & XP: Click Windows Start > All Programs > LeadDesk Set Up.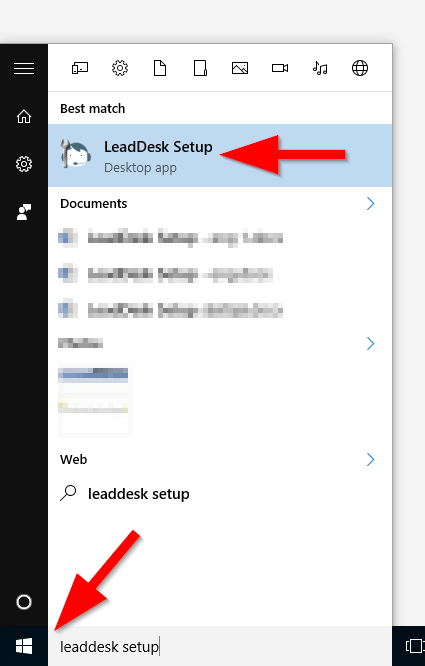 Tip: If you cannot find the LeadDesk Set Up application you may have accidentally deleted it. In this case re-download latest LeadDesk Application version for Windows (includes the Set Up application).
General settings tab
Select your telephone network connectivity:
Local USB dongle (GSM modem),
VoIP Connection.
Please note: only modems provided by LeadDesk are guaranteed compatible with LeadDesk.
Program settings tab
Program always on top: keeps LeadDesk application always at the front of your screen.
Popup on incoming call: when you receive an incoming call, LeadDesk will appear in front of other open programs.
Enable Remote Listener: allows your administrator or teamleader to listen to your conversation. This option is only relevant for Remote Listener, not the VoIP remote listener.
Delete browser cache: this deletes all stored information from your computer when logging out.
Play ring out tone: adds a ring out tone when you start a call.
Please note that we already add this to your call by default via our server.
Upload bandwidth: This slider allows you to control the amount of bandwidth LeadDesk uses. Please note that the more bandwidth you allow, the fast LeadDesk is able to upload your call recordings and/or set connections.


Enter your pin code for your modem's SIM card. Tip: remember to change this when you swap SIM cards
Audio settings tab
Speaker / microphone: This allows you to select whichever speaker and/or microphone you'd want to use.

Tip: these are usually your USB headset.


Speaker / Microphone volume gain: this works as an amplifier allowing you to change your volume outside of Windows volume settings.

Tip: call a colleague or someone you know to test your audio settings once before you start calling customers. Ask if the volume of your speech is pleasant or if you should make small changes. 


VoIP settings tab
Input your VoIP account credentials or select Fetch to activate the VoIP account assigned to you by your administrator.
Adjust your buffer. Tip: if you are having voice latency issues or robotic-sounding audio you may need to try different buffer sizes. We recommend starting at 240 ms. Tip: you can also change your buffer settings from the VoIP icon at the top of the LeadDesk Button interface window.
USB Dongle tab
Pincode: Here you can fill out the pincode of the SIM card you are using.
Inbound number: Here you can fill out the inbound number that you're looking to use.