Please note:
LeadDesk Setup is only available for application users.
Browser users' configuration is done solely by your administrator.
Opening LeadDesk Set Up
Windows 8, 10 & 11: Click Windows button (start button)> type "LeadDesk setup".
Windows 7 & XP: Click Windows Start > All Programs > LeadDesk Set Up.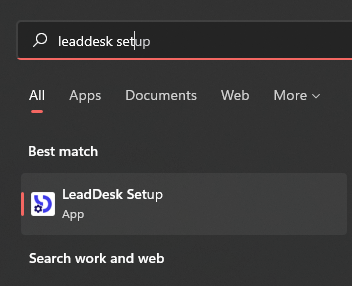 Tip: If you cannot find the LeadDesk Set Up application you may have accidentally deleted it. In this case re-download latest LeadDesk Application version for Windows (includes the Set Up application).
General settings tab
Select your telephone network connectivity:
Local USB dongle (GSM modem),
VoIP Connection.
Please note: only modems provided by LeadDesk are guaranteed to be compatible with LeadDesk.
Program settings tab
Popup on incoming call: when you receive an incoming call, LeadDesk will appear in front of other open programs.
Enable Remote Listener: allows your administrator or teamleader to listen to your conversation. This option is only relevant for Remote Listener, not the VoIP remote listener (accessed from Admin).
Delete browser cache: this deletes all stored information from your computer when logging out.
Play ring out tone: adds a ring out tone when you start a call.
Please note that we already add this to your call by default via our server.
VoIP settings tab
These settings should only be changed by our support
USB Dongle tab
Pincode: Here you can fill out the pincode of the SIM card you are using.
Inbound number: Here you can fill out the inbound number that you're looking to use.