Callbacks are an essential part of the LeadDesk workflow, and control how they work and how agents interact with them are important considerations. You may want to limit the time of callbacks, or the type that can be created. For each project you can define the rules for callbacks separately.
In you Admin account,
Go to the

Projects

page.
Go to the

Project List

subpage.
To create a new project, click

Create. You may be prompted to select which type of Project to create. If so, choose the appropriate option.
Alternatively, to edit an existing project, find it in the

Project List

and click its name.
Go to the

Callback settings

section.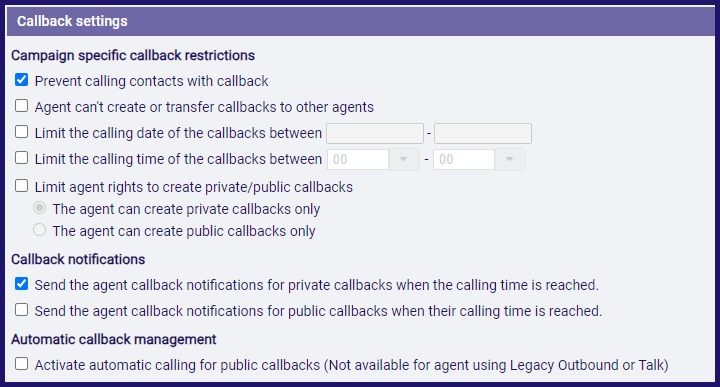 Project specific callback restrictions
Prevent calling contacts with callback. If the contact has already agreed a specific time to be called you may not want to call them at a different time. Tick this checkbox if you do not want the contacts who have callbacks to be called with normal automatic calling. Only available for outbound campaigns.
Agent can't create or transfer callbacks to other agents. If you tick this checkbox, the agent will not be able to assign callbacks to their colleagues. This will not prevent agents from creating public callbacks, or private callbacks for themselves.
Limit the calling date of the callbacks between. Tick this checkbox to specify a date range for all callbacks

associated with this project

. Callbacks cannot be created outside that date range.
Limit the calling time of the callbacks between. If you tick this checkbox, you can specify a time range. Callbacks associated with this project can only be called within that range.
Limit agent rights to create private/public callbacks. If you want agents working on this project to only be able to create public callbacks, or only private ones, click to tick this checkbox, then choose the appropriate option underneath it.
Callback notifications
Click to tick the appropriate checkboxes for the type of callbacks you want to notify your agents of.
Automatic callback management
This option only applies to outbound campaigns, and even then may not be visible. For more information, see this article.