This feature was previously called "contact ownership".
Preferred agent status is used for inbound projects. It means that once an agent accepts a call or message from a contact, they become the preferred agent to deal with that contact for a number of hours. If the contact calls back within this period, and the original agent is available, LeadDesk will connect the contact back to the same agent. This helps continuity of service, meaning the customer does not have to repeatedly describe their problem to different agents.
Changing the preferred agent period
For each project, you can set the period for which the agents have the preferred status.
To update this period for an existing project, in your Admin account:
Go to the Projects page.
Go to the Project List subpage.
If necessary, search for the project to change.
Click the name of the project to edit its settings.
In the General information section, change the Preferred agent duration. This is measured in hours and can be from between 1 and 999 hours.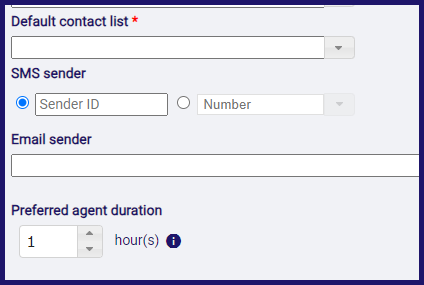 Click the Save button in the top right.
Switching off preferred agent status
It may be that the preferred agent model does not work in your business. If the majority of your calls come from the same number, for example, the same agent will end up dealing with most of the calls you receive. You can switch off preferred agent status for particular call queues.
In your Admin account:
Go to the Inbound page.
Go to the Queues subpage.
Click the edit icon for the queue you want to change.
In the Optional settings section, click to uncheck Return callers to the agents who last spoke with them.

Click the Save button in the top right.