To update or delete activity in the meeting calendar, in your Admin account:
Go to the Overview page.
Go to the Meeting calendar subpage.
Find the activity you want to update.
Click on the booking.
The options you have available depend on whether you are updating a meeting, busy time or a task. They are described below for each type of activity.
Updating a meeting
In the Edit Meeting dialog you are able to change all the existing details about the meeting, including Starts and Ends time and Organizer.
You also have several new options available:
The Link to this meeting will show the URL of the meeting, should you need it.
If this meeting was booked over the phone by one of your agents, the Record field will show the recording of that call, if any.
The Booker field shows who booked this meeting, which often be different from the Organizer of this meeting. The Booker can be updated.
Click the Meeting status drop-down list to change the status of this meeting.
Click the Add task link to create a new task. You might use this to schedule preparation you need to do for this meeting, for example, or any number of other purposes.
Click the Show history link to display any changes that occurred to this meeting. Click Hide history if you don't need to see the history again.
Click Add notification to include a notification in the email about this meeting.
When you have made your changes, click the Save and send button to update the meeting and send an update email to the listed email addresses. Click Save to up update the meeting without sending an email.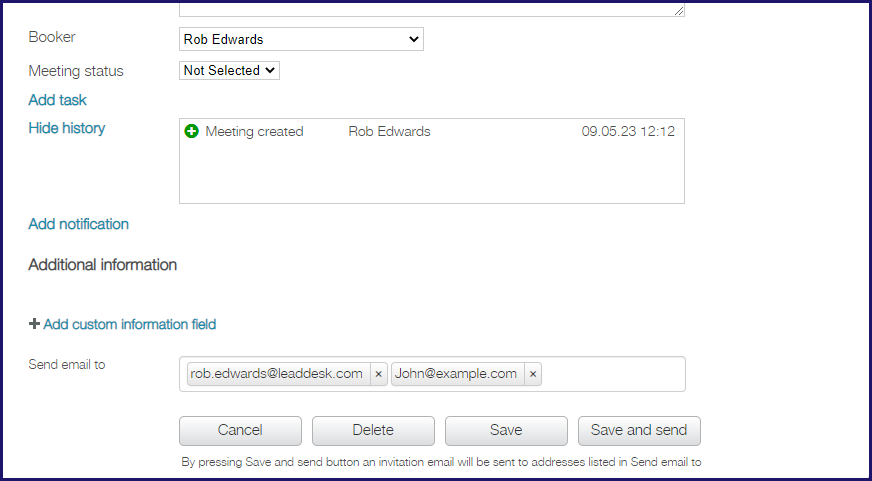 Deleting a meeting
To delete the meeting, in the Edit meeting dialog:
Click the Delete button. Note that you will get no confirmation check, the booking will be deleted and the meeting cancelled immediately.
Notification of the meeting's cancellation will be automatically emailed to all participants.
Updating busy time
For busy time the only thing you are able to change is the description. In the What do you want to do? dialog:
Make the changes to the description as needed.
Click the Save description button.
The description for the busy time will be updated.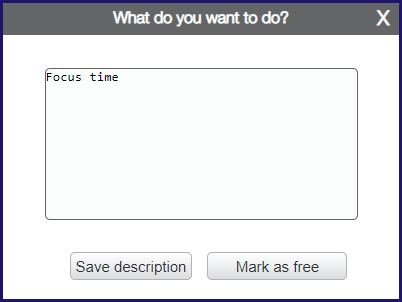 Deleting busy time
In the What do you want to do? dialog:
Click the Mark as free button.
The busy time will be removed and the time slot will be available to book again.
Updating tasks
You can change all the details for the task, as required. In the Task dialog:
Make any required changes.
Click the Save button.
Deleting tasks
In the Task dialog:
Click the Delete button.