You may need to send a message to an agent, or a group of agents, so that they will see it in their LeadDesk interface.
To do this, in your Admin account:
Go to the Overview page.
Go to the Agent statistics subpage if you want to message an individual, or the Agent groups to message all members of one of your agent groups.
Find the agent or group in the table on that page.
Click the envelope icon to the right hand side of that row of the table.
Type the message you wish to send in the New message field..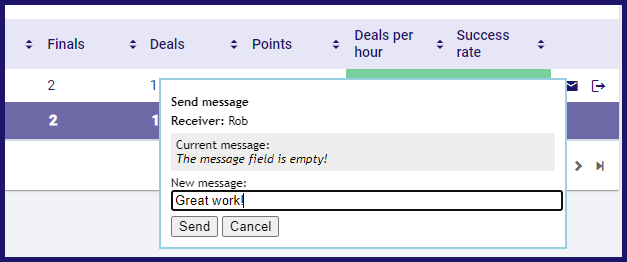 Click the Send button.
The message will appear as a popup on the agent's (or agents') interface the next time they change page. That is to say, the popup will not interrupt calling, but if the agent moves to their History page or Away page, the popup will display.

The agent can Delete the message when they have read it, or can Keep it for later. If they choose to keep it until later, it will display at the top of their current screen, and pop up again next time they go to another page.