If you are using LeadDesk to book appointments, as an Admin you will want to be able to view those bookings and see how busy the sales team is.
This article covers viewing the calendar in the Admin interface. For information about creating activities, see this article.
Choosing the calendar to view
In your Admin account:
Go to the Overview page.
Go to the Meeting calendar subpage.

If you have multiple projects, each with their own calendar, click the Calendar project drop-down list and select the correct calendar project.
By default, this will show appointments for all team members associated with the project. To choose which calendars to view, click the Select team members button.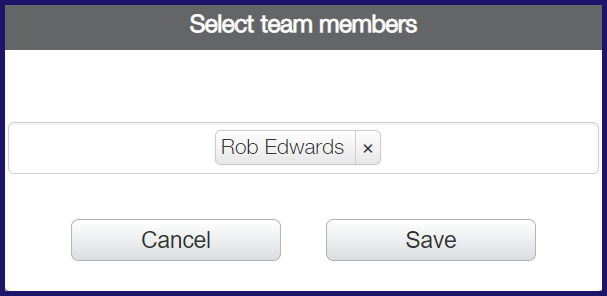 To remove a listed team member, click the X next to their name.
To select a team member, click the white space next to the listed team members, this will show a list of available team members. Click to select the appropriate name.
Click the Save button.
The calendar will now show only appointments for the selected team members, belonging to the selected calendar project.
Navigating the calendar
To move around the calendar:
Click the < or > buttons to page through the calendar.
Click the today button to focus on today's date.
To change the calendar view:
Click the month, week, day or list buttons to change the calendar view.
In month, week and list views, you only see the title of the appointment. To see more detail, click the appointment to view, and potentially edit, an appointment.
In day view, you will see calendars for each selected team member side by side, making it easier to see which appointment is booked for which team member.
Each type of activity appears differently in the calendar.
A meeting is scheduled time involving two or more people. Meetings appear in blue in the calendar.
Busy time indicates that a team member is not available at a given time and appears as grey in the calendar.
Tasks show as orange in your calendar and is time reserved for particular actions.

Searching for an appointment
You can search for a meeting, or busy time, based on any text in it. Note that you cannot use the search function to find tasks.
To search for a meeting:
Type a search clue in the Search field in the top right.
You will see a list of appointments across all calendar projects and all calendars which contain the search term.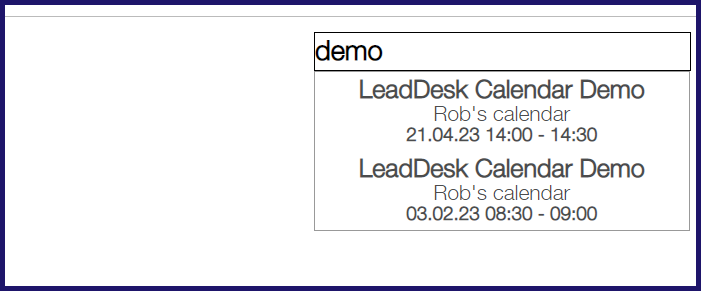 Click one of the offered matches to view and potentially amend its details.