Info Screen uses similar widgets to your admin/team leader dashboard page. Admins can log in to display workforce-wide data. The team leader access level can be used to display office-specific and campaign-specific data sets.
With LeadDesk Info Screen you can:
Watch performance data visualizations on a big screen, including charts, graphs, and fun animations
Increase agent excitement and competition
Gamify your campaigns
Customize your big screen graphics via a variety of widgets
Explained: as an Admin / Teamleader / Manager you can login via URL screen.leaddesk.com
On this page they can view widgets as they would from the Admin > Overview (see screenshot).

Below you'll find an example of what the infoscreen looks like.
When logged in, you can add 6 different widgets (2).
By clicking one of the widgets, you'll get a dropdown of all your available widgets (3).
With the Start button, the 6 widgets shown in the overview will start rotating at full screen size. (1) 
Please note that although the preview of "Deal Made" shows "KAUPPA" this is just valid for the preview, the screen itself will display the term correctly.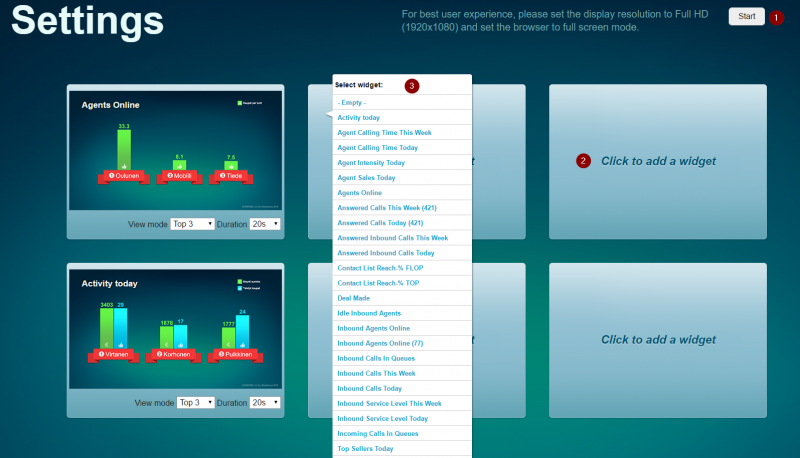 Widgets can be shown in different views Top 3, Top 10, Top 24, Top 40 or competition.
This can be changed per widget from the View mode (1).
For the Competition view mode, you can set a target which is then represented as the finish line.
The duration represents the refresh rate.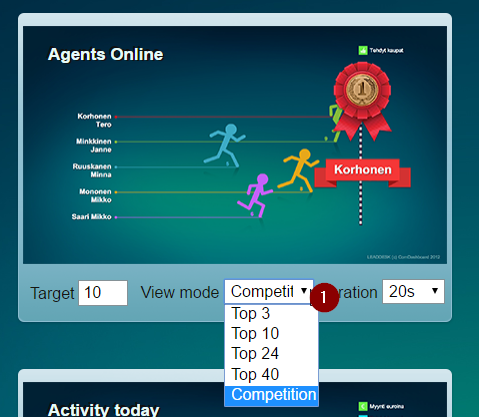 There is no time-out for the log-in of any user. 
If you have a SMART TV and the widgets are not showing properly, delete the browser history or try incognito tab from the browser.