In your Admin account you can view the most recent activity for all agents within a particular date range. From there, you can view and amend the activity of an individual agent if necessary.
Viewing agents' activities
In your Admin account, go to the Overview page and click to select the Activity log subpage.

If desired, click the Office drop-down list and choose an office to restrict the list that location.
Click the dates to choose a date range if necessary.
If you have made any changes, click the Use button to apply them.

For each agent you will see:
The Last activity logged by that agent. This may be automatically assigned as the agent works, or the agent may select an activity from a list when they mark themselves as away.
For the date range selected: The time the agent's first activity started, and the time their last activity ended. These times include all activities recorded for the agent in that date range, not just the time of the most recent.
Note that where the agent is still logged in, the Last activity ending time will show (Working).
The Total duration for all activities recorded in that date range.
Viewing all activities for an agent
You can view all activities recorded for an agent. To do so:
Click the agent's name in the table.
Alternatively:
Click the dropdown list underneath the table, click to select the agent.
Click the button.

You can change the date range shown by clicking on the dates above the table.
This table shows all activities recorded for that agent in the selected date range. It shows what the Activity was, its Start at time, its End at time, and a duration in the Hours column.
If necessary, you change the activity list for an agent.
Deleting an activity
To remove an activity from the list:
Click the icon for that activity.

A confirmation dialog will appear at the top of the screen.
Click the OK button.
Adding an activity
To add a new activity to the agent's list:
Click the button.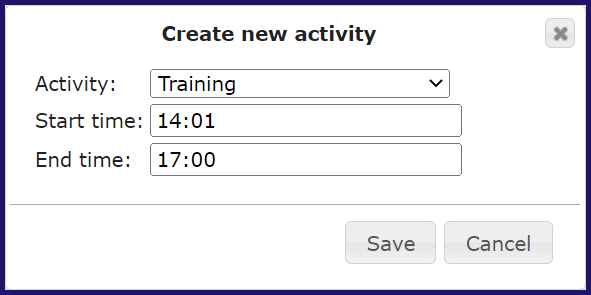 Click the Activity dropdown list to select the correct activity.
Type a Start time and End time.
Click the Save button.
Note that the times for a new activity cannot overlap any existing activity. To accurately record activities, you may need to delete a previous entry and create two new entries to cover the time.
Likewise, you cannot edit an entry. To change the activity recorded for a time, you will need to delete the original entry and create a new one.
Adding new types of activities
If you want to record an activity, but there are no suitable options available in the Activity dropdown, you can create a new activity. To do so, you will need to go to the General Settings page and the Activities Management subpage. See this article for more information.