Windows Application 9.90
Get the latest version of the Windows application here.
If you encounter links in the Windows application, you can now Ctrl-click on them to open the popup in your default browser, rather than the application window.
Release r84.84
In one of our biggest release updates ever, we have several important new features as well as a host of fixes and cosmetic improvements.
Admin
Queue grouping. Admins working with inbound queues can now define groups of queues in a new page, Queue Groups, a subpage of the Inbound page. For more, see this article.

If you use Superstars, you will now see a link to it in the Overview page.
In the Overview page's Calls subpage, typing in the filters will now replace the "- All -" text instead of adding to it!
Reload Agents' VoIP settings in the VoIP page now affects agents using Talk, as intended.
Reload Agents' VoIP settings in the VoIP page will now wait to reload if the agent is currently on a call using Talk or Outbound.
Omni
Improved agent notifications. If calls or messages arrive when the agent is actively working inbound but has the application minimised, a windows notification will show, allowing agents to focus back to LeadDesk. A notification will also appear if the agent's audio device changes during a call (for example, letting an agent know if they accidentally unplug their headset).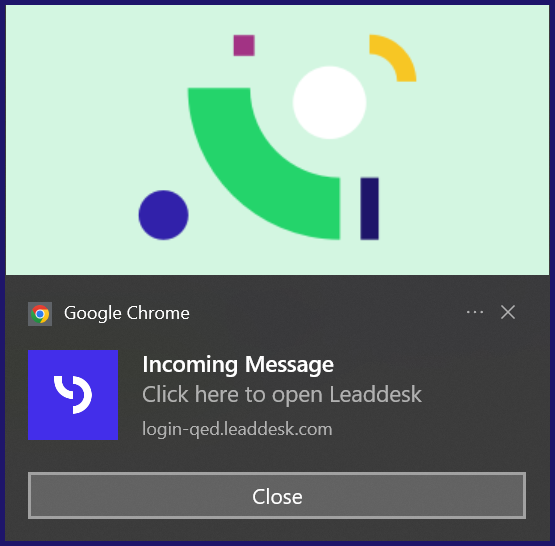 Queue grouping. If Admins have created queue groups and allowed agents to choose the queues they serve, agents can select groups of queues to work with.
Call rejected. A new call ending reason, Call rejected, will now be assigned to calls which an agent was offered and rejected. This is visible in both the Agent's History page, and the Admin's Calls page.
Shift-Enter in webchat. Agents using shift-enter in a webchat, or a canned message that includes a shift-enter, will have that new line appear in the customer's webchat. This allows better, more predictable formatting of webchat responses.
Agents who work both inbound and outbound could, in certain circumstances, have been required to choose their outbound project while on the inbound page. The dialog has been restrained so that it only shows in the outbound page, as intended.
After sending a webchat message, the Send button was remaining active even when there was no message to send. It will now be greyed out as intended until the agent types something new.
Outbound
Callbacks that had a phone number but no other contact information can now have their contact information updated and saved properly.
Callback counters now display properly in different sized windows.
Agents working inbound in the outbound interface can get temporarily banned if they miss too many calls in a row. Previously, if this happened the agents were seeing a blank notification. Now the notification explains what happened.
It was possible to create simulated manual calls even after they had been switched off in Admin. This has been corrected.