Brand new agent user interface released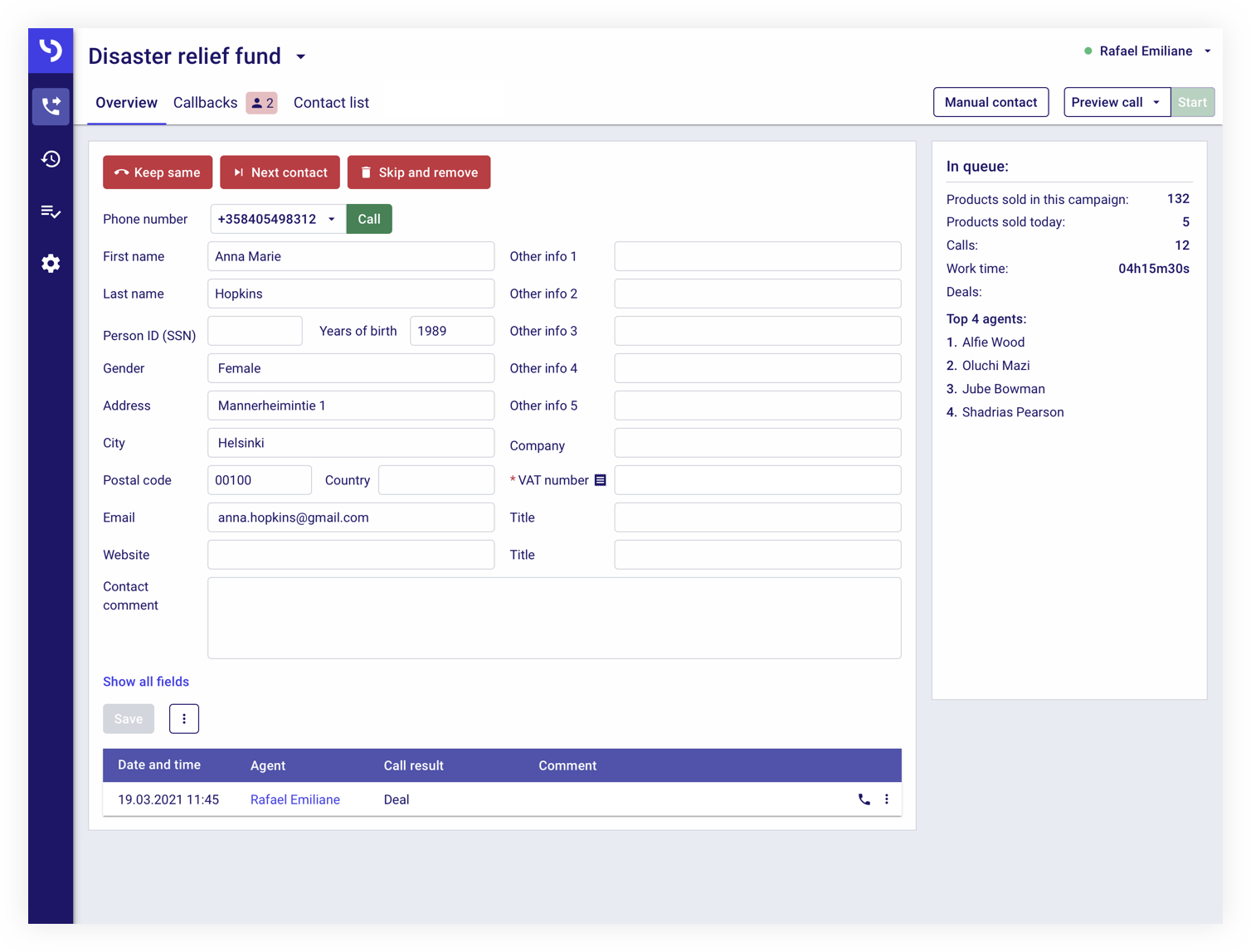 Make your agents happier and more effective. The new interface is smooth, modern and beautiful.
It is easy to learn and use, making your agents more productive from day one.

See more details and learn how to activate it for your agents!
Other updates in the release
Omni
Switchboard works with the Omni user interface. Switchboard is an effective way to transfer calls to employees not using LeadDesk. Read more about it on the LeadApp store https://leaddesk.com/leadapps-store/product/switchboard/
Inbound project allows now setting the call recording off.

Emails with data tables coming from online forms were not properly shown. Now the layout is easier to read.
Outbound
In the semiautomatic dialling, busy call caused the contact to be unlocked. In some cases this caused the contact to become available to another agent. This is now fixed.
The contact name is shown for inbound calls. The name if visible if the contact is found from the contact list and the campaign allows showing the customer information.
Unanswered calls are shown in the preview view and the call comment of the call dialogue. Personal callbacks can be called an infinite amount of times as they are not counted for total call attempts.This can lead to an excessive amount of calls if the contact never answers. Allowing agents to see complete logs will help them make a decision on when to give up calling.
Admin
The calling time widget ("Agent Calling Time Today/This Week") of the Admin dashboard did not count inbound calls properly. Now they are included in the calling time properly.
The office filtering of the search in the admin user interface has changed. The filtering was based on the agent's office. Now the filtering is based on the campaign's office. This change affects especially team leads who will be able to see calls and orders only from campaigns they can access.
The usage of the QA tool on the admin UI is now easier, since the height of the tool is now higher.