A call queue's opening hours can be defined either in the queue settings, or if you use a flow to direct calls to this queue, in the Timing applet. This article describes the first of these methods.
Note: The timings used in this are based on the Default timezone defined in the General Settings page, in the Global settings subpage.
Define the normal pattern
In your Admin account, either create a new queue or go to edit an existing one.
Go to the Queue's opening hours section of the queue settings.
Click and drag to highlight the normal opening time for an individual day.
The Add opening hours window opens.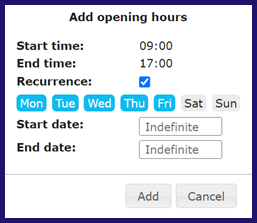 Click to select the days of the week this schedule repeats for.
Optionally, set a Start date and End date.
Click the Add button.
Exclude days
You can then disable particular exceptions, for example for public holidays.
Click to view the dates by month.
Navigate to the day you wish to exclude.
Point your mouse to the right of the blue bar, to see a white trash can icon.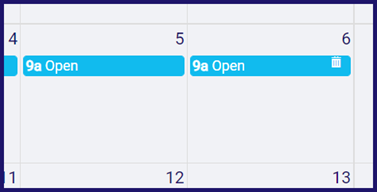 Click the trash icon.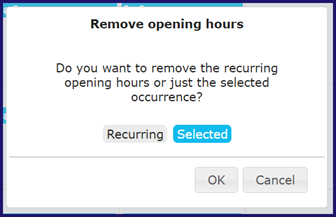 To exclude just the selected day, click the Selected option.
Click the OK button.
Make any other changes you need to the queue's settings.
Click the Save button.