The Announcements page lets you upload audio files to LeadDesk which can then be used as announcements for call queues. You may need several announcements, for example for when the caller joins the queue, a periodic announcement or a timeout announcement.
Announcements should either be in .mp3 or .wav formats, with the appropriate file extension. The preferred format is .wav on one channel recorded at 8000 kHz., If your file is in mp3s format, it w will be converted to .wav.
To upload your announcement, in your Admin account:
Go to the Inbound page.
Go to the Announcements subpage.
Click the Choose File button.
Browse to find the file to upload.
Click the Open button.
Click the Submit button.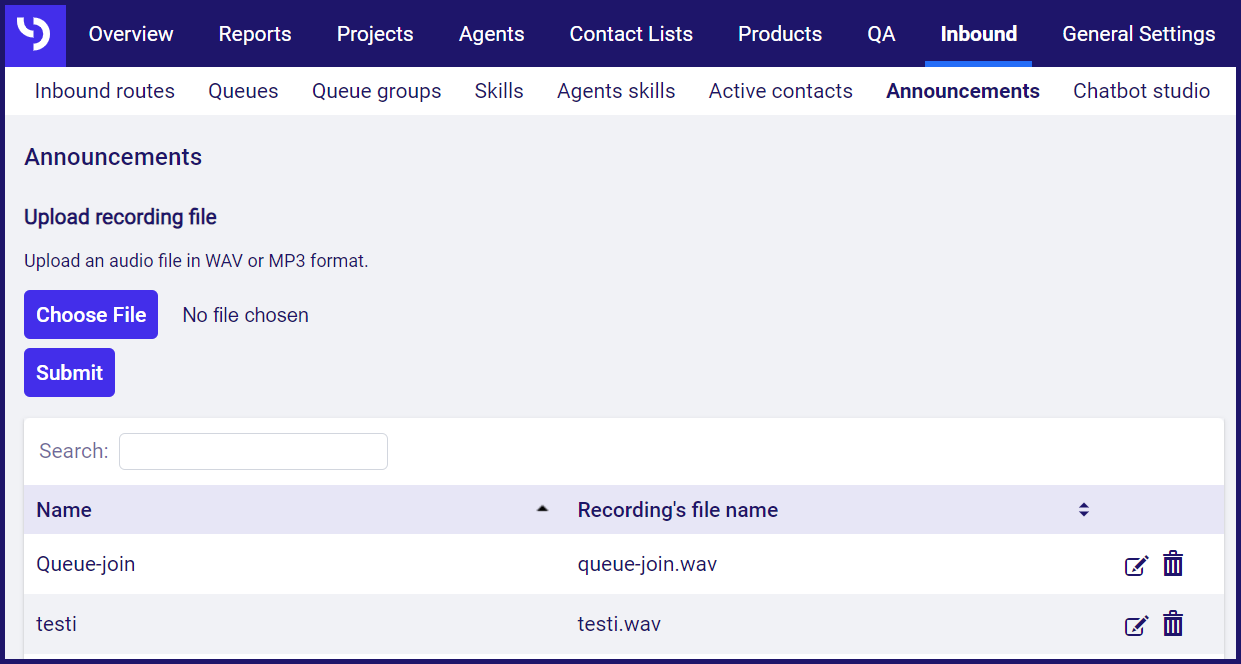 To edit the Name of an announcement, click the button.
To delete an announcement, click the button.
For more about using announcements, see the article Creating an inbound call queue.
Pre-converting your file
If you run into problems, where LeadDesk informs you that the conversion failed, you may want to try converting the file into the correct format before uploading. The file should be a single channel .wav file with a sample rate of 8000 kHz.
Many tools exist for converting audio file formats. Use the one you are most familiar with. If you do not have a favourite already, you might try Online Audio Converter.
Note this is not LeadDesk software, we cannot offer support on its use.
Go to Online Audio Converter
Click the Open files button.
Browse to find the file you want to upload (or drag it onto the page from a file explorer window)
Click the wav button to select a format.
Click on the Advanced settings button.
Click the Sample rate drop-down list and select 8000 Khz.
Click the Channels drop-down list and select 1.
Click the Convert button.
Wait for the conversion to complete, then click the Download button