Depending on the campaign that your agents are working on, you as an admin might want to change the way that the agents see the information from the contact list in the agent's Call tab > Contact list; depending on your focus group, it might be for instance relevant for your agents to right away see the gender or the day of birth of the contact that they're about to call.
Custom table views allows you set templates, which can be assigned from the campaign specific settings > Optional settings > "Select table view" option.

From the General Settings (1) > Custom table Views (2) > Add new (3) button. You can create new views.
First give your view a name (1).
Per default no columns are visible (2), but you can drag and drop them from the hidden columns (3) into the visible view selection. The follow-up from top to bottom is how the agent will see the columns in the agent view from left to right. Inside the fields you can see if the agent can search on the value or sort the column based on that information.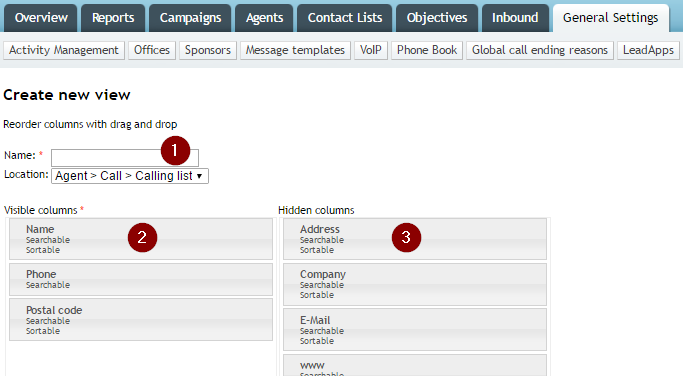 After the Custom table view has been applied, your agent will see a new order from the Call tab (1) > Contact List (2). The view will reflect in the column overview bar (3).