For some forms of callcenters, it is not uncommon to have sponsors on whose behalf the center works.
The sponsor provides for contactlists to be called or defined products and/or services to be offered.
When it comes to feedback to your sponsor, providing statistics and reports can be time consuming.
LeadDesk provides you with the option to allow your sponsors to look at your center's statistics live.
The sponsor gets his/her own login, similar to your own admin view but with the option to limit the amount of available tabs. By attaching sponsors to campaigns, contact lists or products you can determine what information the sponsor can see. 
(1) Sponsors can be created via General Settings > Sponsors.
Here you only set the name of the sponsor. After you've created the sponsor, you can see how many contact lists, campaigns and/or products the sponsor is attached to.

(2) Contact lists > Contact lists > Contact list settings.
Here you can select which contact lists are linked to your sponsor.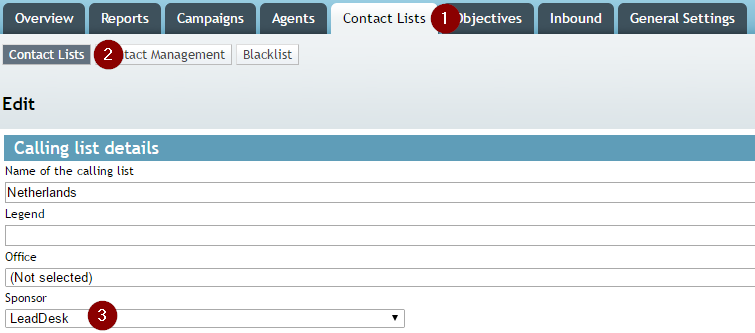 (3) Campaign > campaign specific settings > Campaign information.
Here you can determine that a sponsor belongs to a specific campaign. Please know that once you've attached a sponsor to a campaign, you'll have to do so to every campaign from that point onward.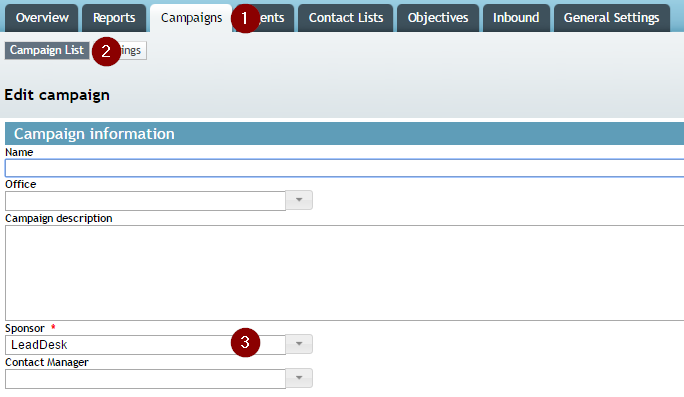 (4) Objectives > Product list > product specific settings: here you can link a product with a product code to a sponsor. This will give you the possibility to sort between products per sponsor.

(5) With the settings applied above (not necessary to apply all), you can now filter in your own reporting.
The sponsor account will only be able to see the statistics based on the connections that you've made above.
The sponsor view is similar to that of the regular admin panel.
Your sponsor won't be able to make any changes, the account has read access only.
Based on your wishes, Support will (dis)allow certain tabs to be shown, as in the example below.