Remote Listener is a LeadDesk add-on feature that enables admins to listen live to an agent's calls and offers two way communication between admins and agents.

LeadDesk offers a Remote listener which works within a local network only. Please observe that this remote listener does not support office restrictions. 

LeadDesk offers a VoIP Remote Listener which works for local networks and remote locations.
(VoIP) Remote Listener can be bought via the LeadApps Store:
VoIP Remote Listener
VoIP Remote listener doesn't require any downloads.
Regular Remote Listener requires the following:
Download Remote Listener from download.leaddesk.com
Follow the straightforward installation instructions
Remember, each agent must check "Enable Remote Listener" in their Agent Set Up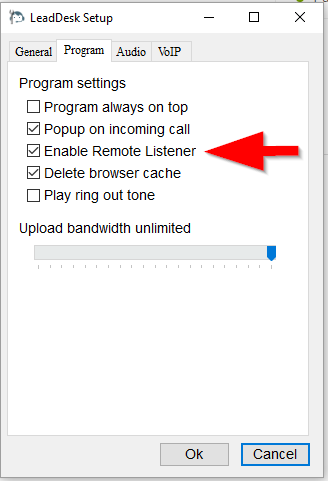 If you have use firewall, please make sure that you allow the following programs via your firewall:
These can be found via under the following path:
Windows 10: C:\Program Files (x86)\LeadDesk
Via Windows button > Firewall > Allow an app or feature through Windows Firewall.
Change settings > Allow another app > Browse > follow the above mentioned path to find the programs.