The new Outbound UI offers a quicker, responsive and more intuitive experience for Agent using LeadDesk Outbound. This article will get you started, pointing out the main features and how to navigate the UI.
Navigation

After logging in, you will see the main pages over to the left as a side navigation bar. From there you can access the Call page, History, Orders, Away & Settings.
From the main call page, you can select your current Campaign from the header and beneath that, the second level navigation.
Manual call and calling mode selection is found just under your user menu in the top right corner, while Contact List can be selected to the left, just below the second level navigation.
Please note: Semi-Automatic calling is now called Preview, and Fully-Automatic calling is now called Progressive.
Calling
Depending on campaign settings, there are up to four ways to make a call
Preview

If available, choose Preview in the call selection from the top right corner. This will bring up a contact in the Preview section, and allow you to click "Call".
After that, you can hang up (and keep the same contact on screen), hang up and move to the next contact or hang up and remove the contact from the list (setting the contact as finalized).
Progressive


Selecting Progressive calling from the top right call selection will enable the "Start" button which will initiate Progressive calling, making the dialer call one contact at a time until you get an answer.
Manual
Clicking "manual call" will bring upp the manual call dialogue, allowing you to enter and call any number. This will create a new contact.
Inbound & Robot calling

This tab might look different depending on your campaign settings, but the basics are the same. Click on the switch to put yourself in ready mode, allowing you to receive Inbound and/or Robot calls, depending on what your current campaign can offer.
From here, you just wait until a call is connected to you.
Please note: The switch is new for this UI. Older versions puts the user in the ready state as soon as they enter the Inbound & Robot tab.
Contact card
All calling modes end up at the Contact Card view as soon as you are connected to a contact.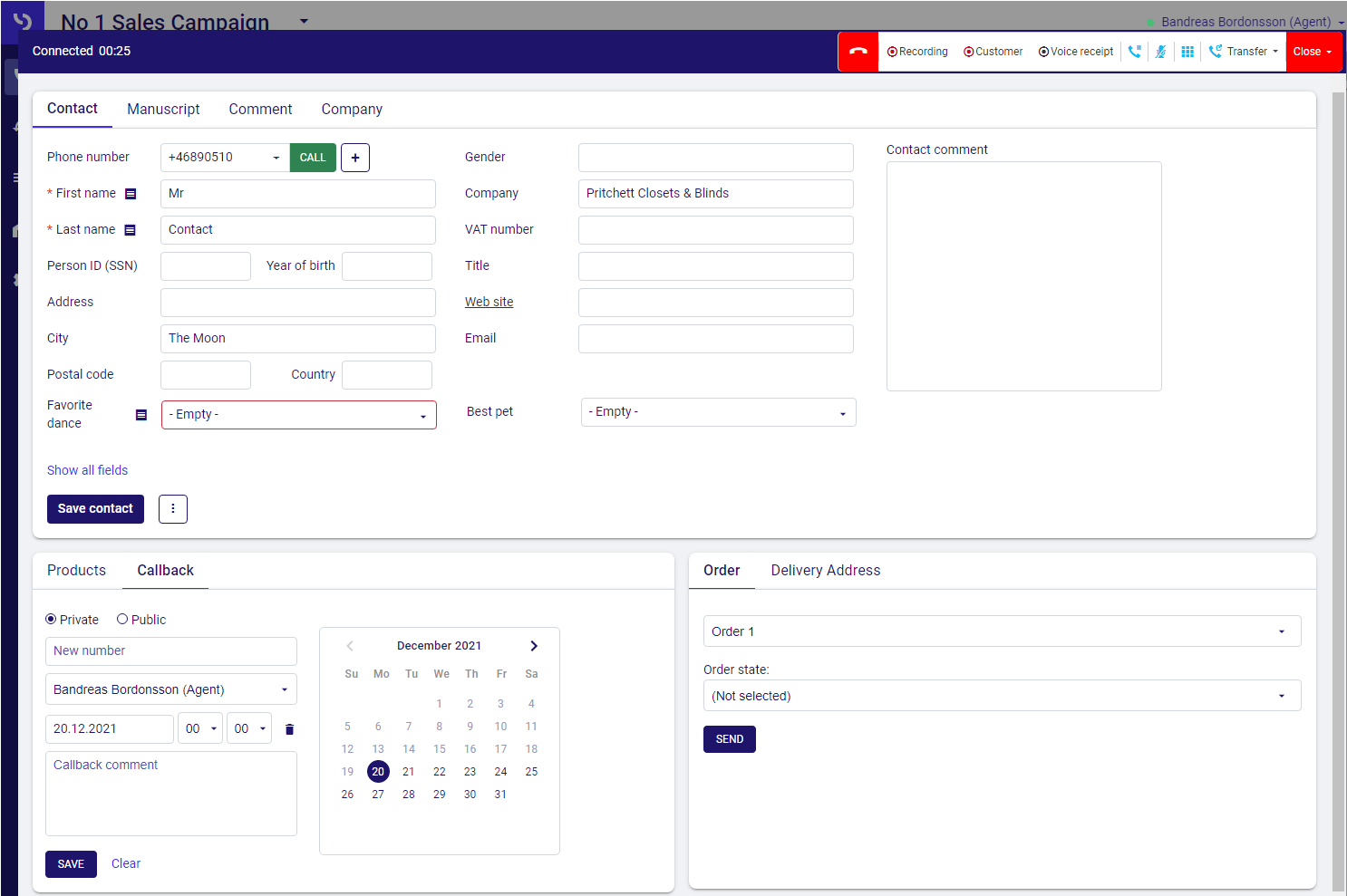 You will find call controls in the top right corner (this is also where you register a call result at the end of the call) and contact data in the first section.
Callbacks and Products & Orders are handled further down the card.
For more information about the contact card please see this article