As well as the updates below, this release includes security updates.
Outbound
Agents using Preview or Progressive calling will now see on screen information if there are no contacts left to call. If an Admin then adds more contacts, calling will begin again automatically.
Agents who change the number of rows in the Contact list and Callbacks pages will now find their preference is remembered if they move around the system and return, change campaigns, or log out. Most importantly, this setting will be remembered when you make a call for either of these pages, making working from these pages easier.
A small but important quality of life update - agents using the search options to search for contacts can now clear their search text by clicking the X. This option is also available for some Admin and Omni searches too.

If contact comment editing is switched off in your environment, the contact comment will now not be visible, as intended.
Trying to edit a callback from the Overdue Callbacks popup was sometimes hiding the edit dialog. Its shyness has been corrected.
For some environments that used a custom order form, agents were finding they could not make private callbacks from inactive campaigns. This has been fixed.
Omni
Agents now have a setting to switch off the notification sound that normally plays for new emails, chat or SMS messages.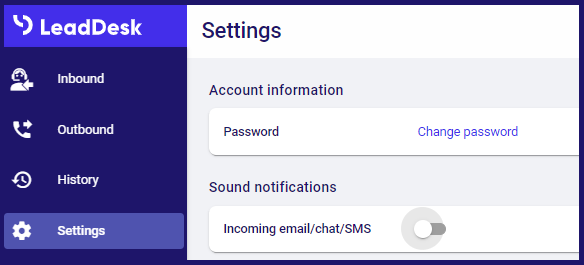 Agents could occasionally have problems editing contact information or creating new contacts for webchat or SMS interactions. This has been corrected.
Admin
An update to the Overview page's Calls subpage will now show the Inbound Call ID in the table.
Team Leader accounts can now be granted access to the Inbound page's Active contacts subpage. They will then be able to use it to reassign active contacts to other agents as needed, including agents who use profiles.
Talk
If you don't have local recording enabled, agents will now not see recording controls, as intended.
Limited the maximum width of the interface when using Talk in a browser.
Fixed a problem for Talk users using the Windows application who could lose sound when using the assisted transfer option.