For outbound calling, the project is called a call center campaign, or sometimes just a campaign. The campaign is the heart of the LeadDesk outbound solution, and provides a vast array of options for customising the way calls are managed and agents work. This article provides a summary of the process with links to each of the relevant sections for more details
Creating a campaign
In you Admin account,
Go to the

Projects

page.
Go to the

Project List

subpage.
To create a new project, click

Create. You may be prompted to select which type of Project to create. If so, for outbound calling, select

Call center campaign.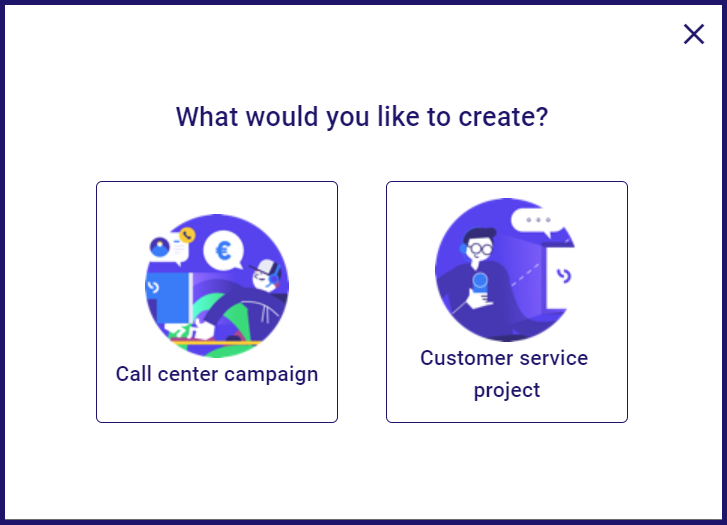 For complete details on each section of the campaign settings, click the links in the list below to see the more details. Depending on the specific setup for your environment, certain sections may not appear when you create a campaign.
In summary:

Complete the General information about your campaign. This includes its Name, Office, Description and Sponsor.
Complete the Agent and contact list selections. Attach free agents to this campaign, and add one or more contact lists. Optionally, contact lists can be weighted.
Complete the Product selections. Add any products or product groups to the campaign, and associate a manuscript.
Manage the Call results for your campaign. Choose which global call ending reasons should be available, and create call ending reasons particularly for this campaign. Define waiting periods.
In the Calling methods section choose the calling methods available to the agents working on this campaign.
The Contact settings lets you rename fields in the contact card, as well as check that the contents are valid.
The Optional settings includes a wide array of options for tweaking the way the campaign works, as well as options to include mini-reports and links to external websites.
The Callback settings determine how callbacks work for this campaign and how agents are notified about them.
The Predictive dialer settings lets you choose what happens with dropped calls when working with the predictive dialer.
The B2B settings are only available if you are using the B2B solution.
Meeting calendar lets you select the calendar associated with this campaign.
Custom fields
The Inbound settings let you manage inbound calls associated with this campaign.
The Recording settings control the default settings for all call recordings for this project.