Contact lists are a vital part of LeadDesk. They help you make and manage calls. This article discusses the general layout of the Contact Lists page. For information on creating contact lists, see this article.
Overview
In your Admin account go to the Contact Lists page, and the Contact Lists subpage. This page shows all existing contact lists.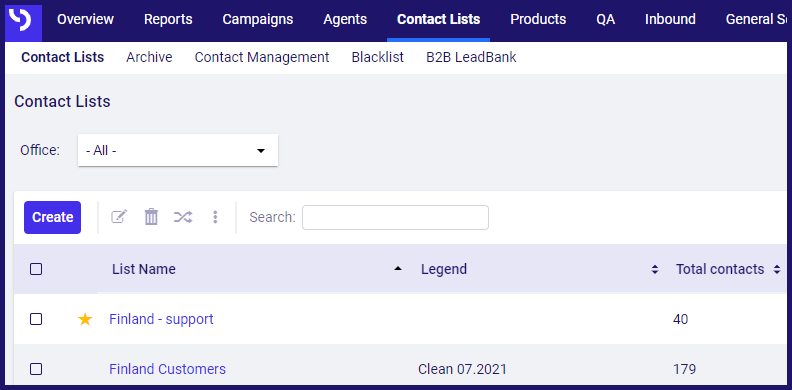 You can filter the list by clicking the Office dropdown list and selecting the preferred option.
To find a particular list, type part of its name in the Search field.
You will see the List Name and Legend for each list. New and recently created lists will show a star

next to their name. Then, for each list you can see:

Total contacts – the number of contacts in the list.
Contacts left – the number of contacts that have not been removed.
Calls made – the number of calls made to contacts on this list.
Whole rounds left – the number of times remaining to call any single contact in the list.
Connected to campaign – which campaign, if any, the list is associated with.
Office – which office, if any, was specified for the list.
Time created – when the list was first made.
Expiry date – if you set an end date for the list, it will show here.
Contact lists tools
You can manage one or more lists, by clicking to tick the checkboxes on the lefthand side. To select all contact lists, tick the checkbox next to List Name.
If you click the checkbox for a single contact list, you can:

Edit the list's details by clicking the edit icon.
Archive the list by clicking the archive icon.
Shuffle the list by clicking the shuffle icon.

Further actions can be accessed by clicking the icon.
If you tick multiple lists, you can only archive or shuffle the selected lists.
Further actions
If you click the

icon, either above the table, or at the end of one row of the table, you will see actions for that list. As well as options to Edit, Archive and Shuffle the calling order, you can also:
Modify the amount of calling rounds – change the number of call rounds for the list. Note that this resets the number of calls for all contacts in the list.
Show contact list contents – shows a selection of fields for every contact in the list.
Show statistics – displays graphs showing the list's usage.
Sort the contact list – lets you sort the list by column or keyword.
Export to CSV or Export to Excel – downloads the contact list in the selected format.
Send SMS to all customers in list – lets you choose an SMS template to send to all contacts on the list.
Split contact list – divide the contact list to two or more parts.