Answering machine detection (AMD) allows filtering non-productive calls in such a way as to avoid Voicemails or non-available or disconnected numbers. The audio is analyzed by our server for the first 1 to 3 seconds of the call, during which time our detection software will determine whether there is a real person or an answering machine picking up the call. If the call is not answered by a human, it will be automatically disconnected.
Kindly note when the system determines the call is successfully answered by a real person, the call is automatically transferred to the agent, but the line has already been active for 1 to 3 seconds, so make sure the call is answered as soon as possible to avoid a hung up from the client.
To activate AMD, from the admin panel > Overview (1) > Call Robots (2) > Click the Edit-button (3) to open the settings, and choose Answering Machine Detection (4).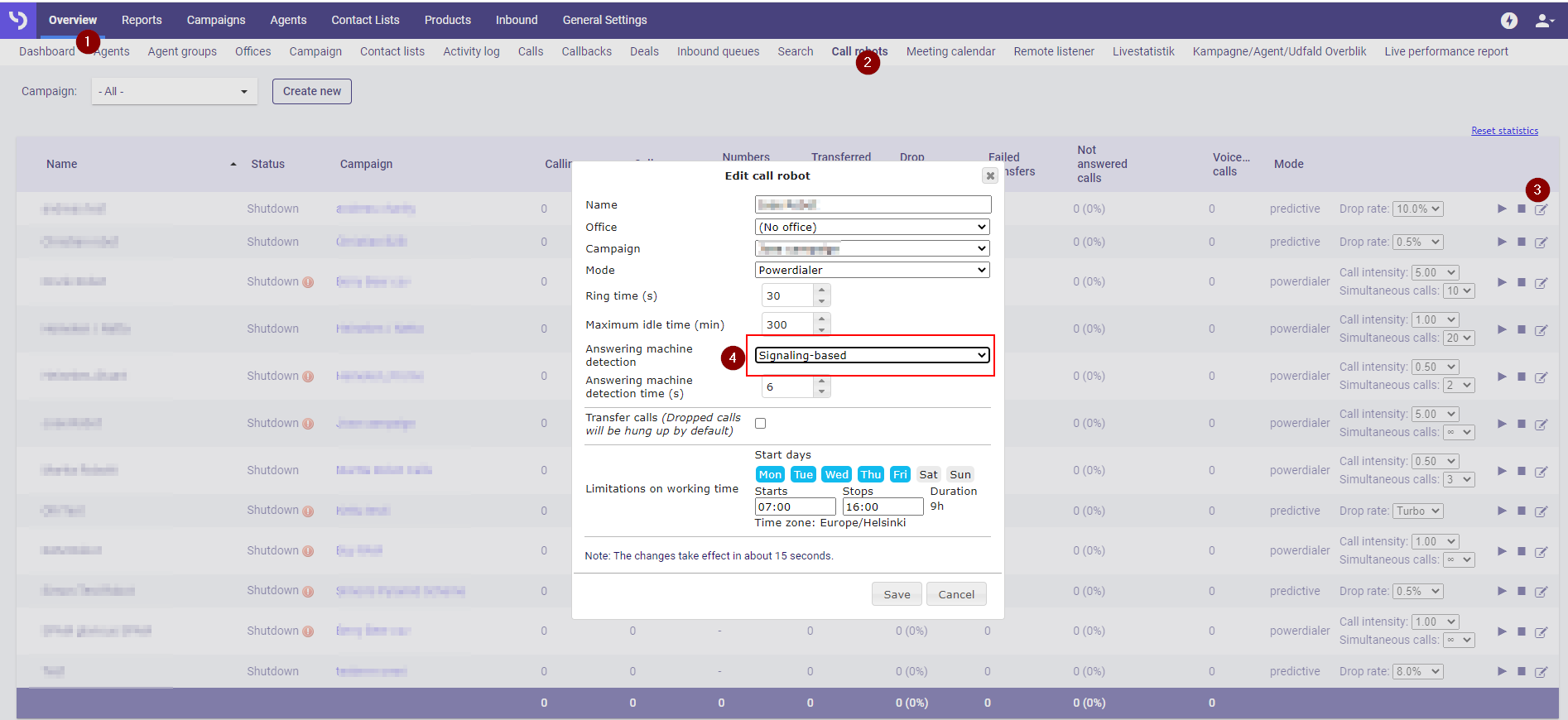 There are three different types of detectors, that differ slightly from one another: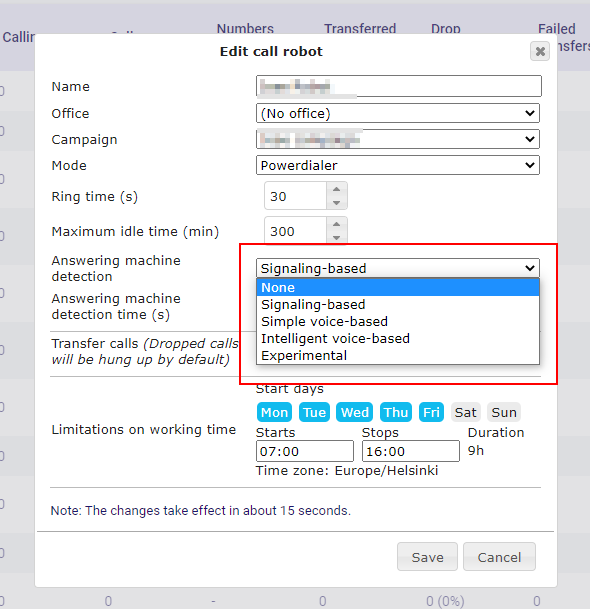 None: It won't check any calls, so answering machine detection is not available.
Signaling-based: It determines the speed at which the call is answered. If the call is answered before the threshold chosen (in seconds) by the admin, it will be considered as an answering machine.
Simple voice-based: The most predictable algorithm that has the least amount of parameters to follow but therefore does not adapt as well to changes.
Intelligent voice-based: Follows more parameters and tries intelligently to adapt to changing scenarios in adapting robot behaviour. That is why this is the most recommended option.
Experimental: This has the most variation in algorithm behaviour which aims to always deliver the best results but as changes have not been thoroughly tested in all scenarios, there can be drawbacks as well.
When choosing answering machine detection, you can consider trade-off human interactions when the call connects that the detection type can filter out more voicemails, as it uses a more accurate version of connected call review when you move from the top to the bottom option.
AMD's accuracy goes up when you choose from none to intelligent voice-based.
On the other hand, it should be noted that the robot takes one (split second) longer to review the connected call, which means that the agent has to be ready for it when the customer connects with the agent.
For that reason, the agent should take the call as soon as possible to avoid drop calls. you can choose to take automatically the call to directly talk to the client and avoid any unnecessary waiting period.