To get your incoming calls to your agents, you'll have to go through two steps:
Create a Flow to connect your phonenumber to this call queue
In this article, we'll briefly show you how to link the phonenumber to your call queue. To do this, we will us the "Flows" section.

Creating a Flow
From your Admin panel > Inbound > Flows: click on "New Flow".
In the pop-up, give your Flow a logical name.
We recommend that you give some type of hint of what you're doing with this Flow, so that this easy to recognize later on.




Setting up what the Flow does
In theory, you could add an endless amount of steps to apply different steps (IVR menus, announcements, and more) to this logic. For now, we'll only set up that it targets a queue.
Drag the Queue applet to the box that indicates "drop applet here".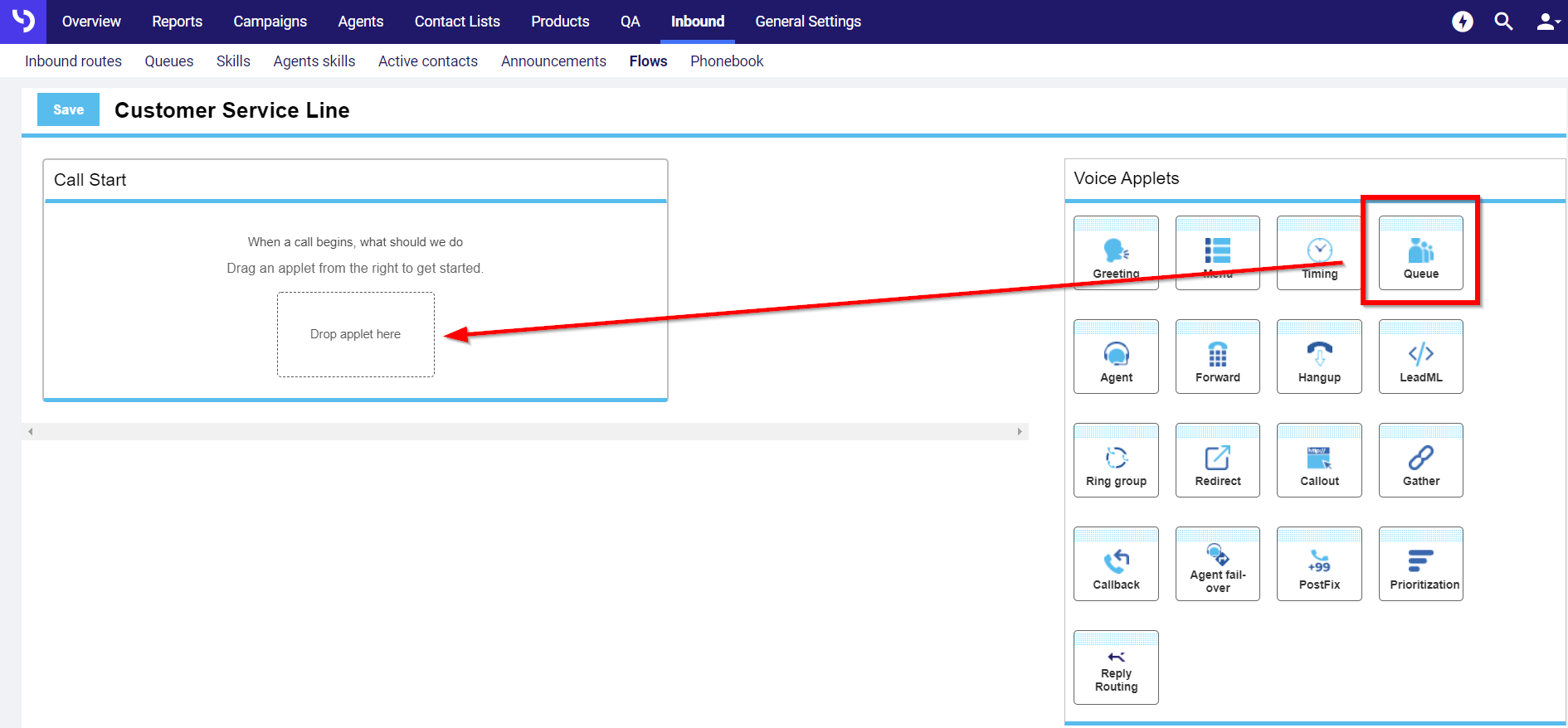 A new box will show up in your timeline.
Here you can choose to which Call Queue the call will be redirected from the dropdown menu.
Optional: you can add an applet to indicate what should happen when the queue is closed.
In the screenshot below, we will disconnect the call. As an example, you could also place an announcement here, or forward the call to an external phone number for out of service hours assistance.
Click the blue Save button at the top left.


Get the URL of your Flow
When you navigate back to the Admin > Inbound > Flows, you will now see your Flow name.
You'll note that the Flow now has an URL on the right side.
Select and copy this text.

Link the phonenumber to this Flow URL
Admin > Inbound > Inbound routes:
Find the number that you're looking to set up.
Use the edit icon on the right side to set up what should happen when a customer calls in.
"Select destination type" select "LeadML".
"LeadML name", here you can give your inbound route a logical name.
We suggest that you give this a name that tells you what happens to a caller when they call in.
"LeadML URL", here you paste the URL from the previous step.
Click on "OK"

Your inbound route and logic are now done.

Noticeable
You can change this route at any time.
Changes are live within one to five minutes of making them from the Admin panel.
As an Administrator, you have full access rights to this module (Support does not need to grant you access rights or activate any of your changes).