Call results and call ending reasons decide whether your contact card reusable or if it is finalized / removed or set on waiting period.
There are two different kinds of call ending reasons:
Global call ending reasons - These are configured under General Settings > Global call ending reasons and are available in all campaigns. You can, however, make changes to them here, but those changes are specific for this campaign
Campaign specific call ending reasons - These are only visible and selectable in this campaign, and configured here
Clicking on a call ending reason opens the options for that reason:
Name - Name of the call ending reason
Removes contact from contact list - If this is checked, choosing this call ending reason will remove the contact from the contact list (finalize it). This prevents the progressive dialer from calling the customer again, and the customer will not be visible in Contact list dial -view unless agent checks "Show all - including finalized"
Moves contact to contact list - If a contact list is chosen from the dropdown, choosing this call ending reason will move the contact to that contact list.
Retain agent assignment to new contact list - If the contact to be moved has been assigned to a certain agent, the assignment is lost unless this option is checked
Reset call attempts - Set contacts' call attempts to the default value of the destination contact list
Move number to blacklist - If this is checked, the number will be blacklisted upon choosing this ending reason. See blacklist
Blacklist sponsor - Choose which sponsor blacklist will be used. This can only be chosen if the "Move to blacklist" is selected
Message templates - If you want to send an email or a SMS message to your customer after the call, choose a message template from the dropdown
Automatic sending - If this is checked, the chosen message will be sent automatically. If not, the agent will get a popup with the option to edit the message before sending, as well as with the possibility to cancel the sending
Waiting period and calling time settings - Allows you to set a waiting period to a number, so that it is not called again for a certain period of time. Useful for automatic and semi-automatic calling. See tooltips for more information.
Move number in front of the call queue when waiting period is applied to it - Number is moved to the front of the priorization queue, so that it's called faster after the waiting period expires. See tooltip for a detailed description
Calling time - Allows to set a time window when this contact can be called
Points - Sets a point value for this call ending reason. Visible on certain reports and widgets
Transfers the call to number - Allows you to write a phone number where the call is transferred when this reason is used (NOTE! Number must include country code, and destination must be a LeadDesk VoIP user, like another agent, or a inbound queue)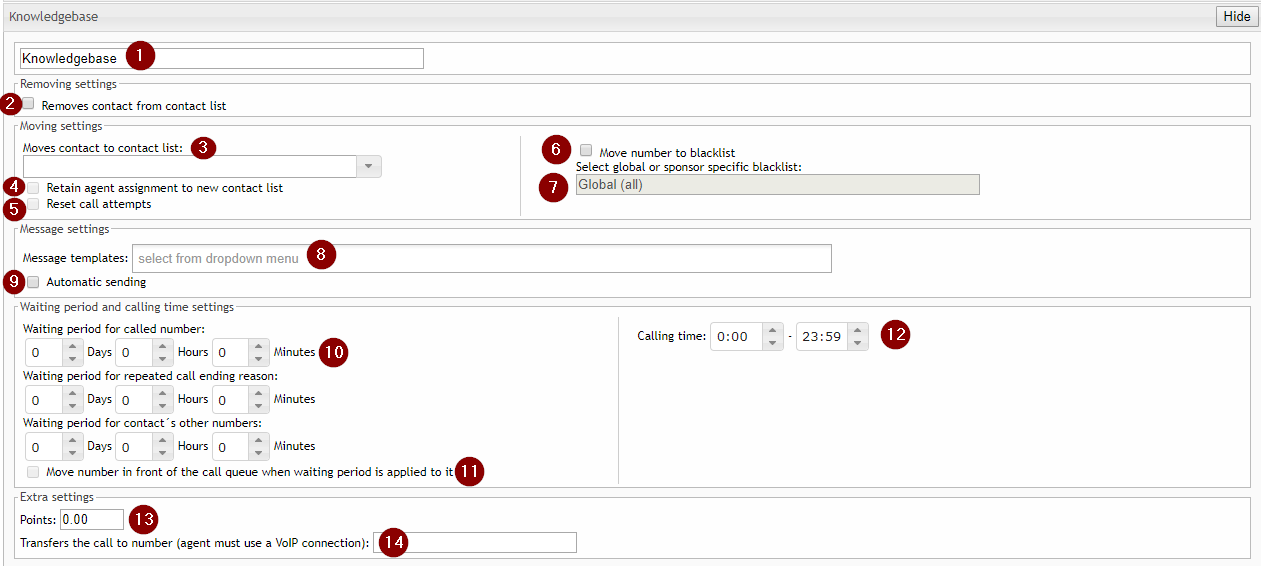 Creating call result groups: You can create "Groups" in which you cluster call results. This allows you to provide your agents with a clear overview when you have large amount of call ending reasons.
This is also the place where you define the waiting periods for Unanswered calls. What this does is, when you call a customer, and the customer doesn't pick up, you might not want to call the customer back right away, but rather wait a few hours before trying again. To do that, you set the value (in minutes) on Define waiting period for unanswered numbers-option. Note that this only affects the first unanswered call. If you call the same customer again after the waiting period, and it goes unanswered again, it will not be assigned the same waiting period again. For this, you need to set the option Define waiting period for repeatedly unanswered numbers. This affects the second unanswered call and all unanswered calls thereafter until you reach the customer once. After that the waiting period no longer applies.
You can also Define a daily calling time restriction for an unanswered number. For example, you have an unanswered call to a customer at 13.00. If this is set to 1 hour, you won't be able to call with the automatic calling between 12.00-14.00. Don't set a too high value here, otherwise you run the risk of locking out some contacts completely depending on when the first unanswered call was made.