Please note that Customer Site is used for the older 2-way SMS version.
If you are using 2-way SMS and have started using this recently, this will not apply to you.
As long as an agent has the contact card open from his/her side, the agent can send out a text (SMS) message to the customer or a number defined in the contact card.
The agent and the admin can both send and receive messages (2-way traffic possibility).

After Support has activated the SMS functionality, both the admin and agent can see the functionality in their interface. From the admin page go to General Settings (1) > Customer Site (2).
From the admin you can create SMS templates, view the SMS activity log and send/receive SMS messages. SMS activity log can be deleted by LeadDesk Support.
From the Agent view you can send SMS and review the SMS log for a specific contact as long as the contact card is open.

SMS activity log (3)
Time: The activity log shows the timestamp of when the SMS was send (4) and when the SMS was replied to (5).
Agent: This is the agent that send out the SMS. If an admin sends out a SMS message it will say "(no agent)"
Customer: This is the contact's phonenumber that the SMS was sent to.
Message: The message that was send. 
Status: 

Templates (3)
Templates can be made to save time for an agent. This will standardize what they send out to the customer. Open the Templates tab (3) and click the New template (4).
Template name: name given to the template so it's recognizable for the admin and agent.
Template message: message that will be send to the receiving party. 

LeadDesk uses different (static) providers. Should you run into any trouble with special characters, please contact our Support to see if another provider gives you the result that you're looking for.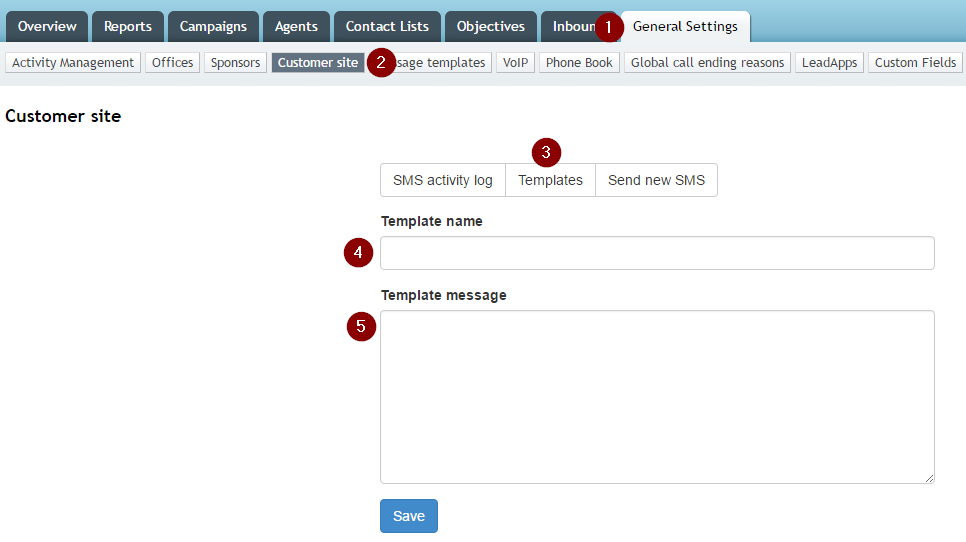 Send new SMS (3)
This tab allows the admin to send out a message directly from the admin panel.
Phone number (4): the number where the SMS message will be send to. Keep in mind the international notation.
Template (5): this allow you to select a template that you've created before, providing that you don't have to type a new message over and over again.
Message (6): this is the message that will be send to the customer. Either type your message here or use the template. You can always alter the text of a template message.

Use the Send (7) button when you're ready to send out the message.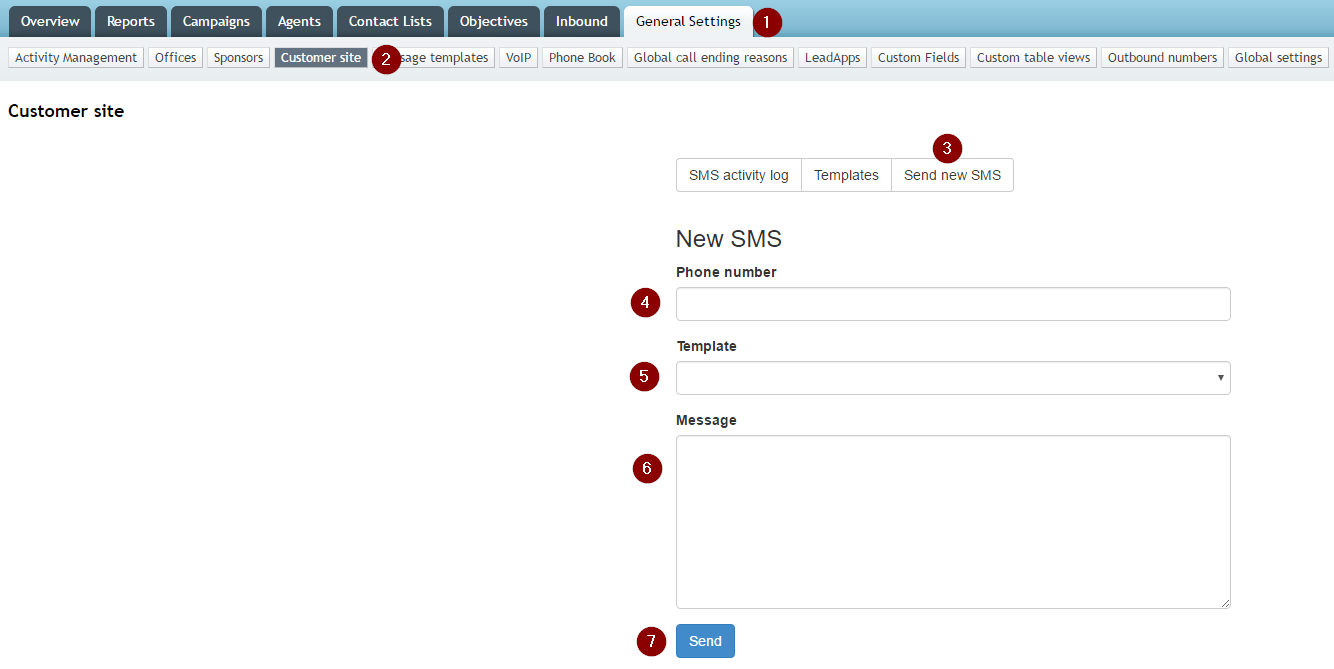 From the Admin > Campaigns > edit campaign specific settings > Optional settings (1), LeadDesk Support will insert a custom link into the Campaign web address (2). This provides that the agent can send the SMS message from the agent interface.