During a call agents can forward a call to another phone number.
You can predefine contact persons from the General Settings (1) > Phone Book (2) > Add contact.
You can name your contact, set the phone number (international format recommended, but not required) and create groups to ease your agent's navigation.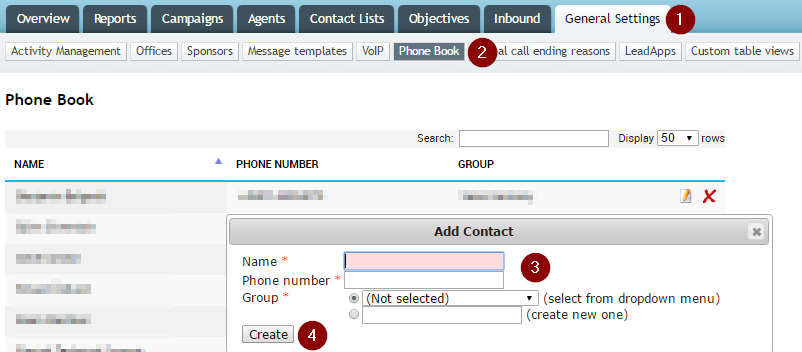 Whilst being in a call, the agent can open up the phonebook from the Button interface via the phonebook icon (1) or from the Application interface by clicking the dropdown button > Phonebok... (1) as shown below.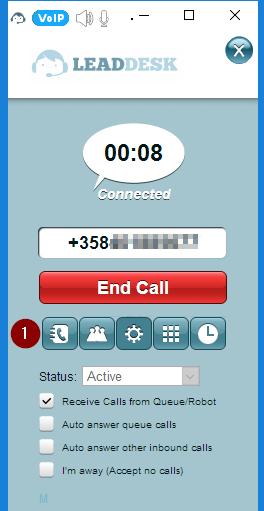 After opening the phonebook from the button interface, you'll be able to see all the different groups that you've created.
From the Button interface you open the group by clicking the group (1) (the + icon while change into a - to indicate that the group is opened). Press the transfer button (2) to forward a call. Press the Close button (3) if you want to cancel your phonebook transfer.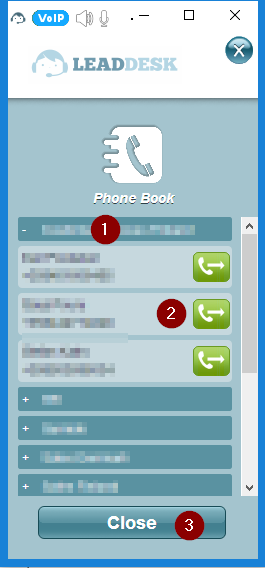 From the application interface the groups and their contacts are already expanded. Simply select the contact that you want to transfer to. You can use the Call (1) button to put your current call on hold and talk to the person to whom you will transfer. The Call button will change into a Hangup icon so you can cancel a call (for instance if you reach a voicemail). Use the Forward (2) button to forward your current call to the selected contact. Use the Cancel button (3) to close the phonebook.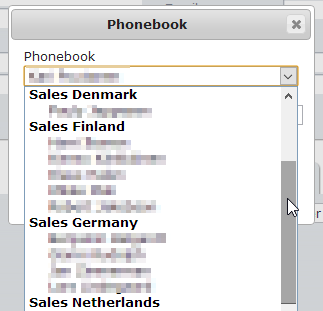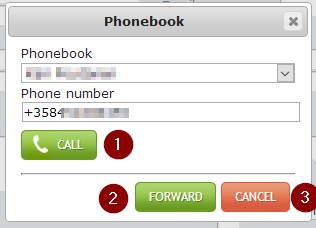 After transferring a call, the agent's interface shows that the call is disconnected and the agent can continue calling.