LeadDesk robot predictive dialing can use "Answering Machine Detection" (aka AMD)
Answering machine detection works in the way that the audio is analyzed by our server for the first 1 to 3 seconds of the call, during which time our detection software will determine whether there is a real person or an answering machine picking up the call. After the detection is made, the call will be either hung up, or connected to an agent. Due to the fact that the detection software needs to analyze the first 1 to 3 seconds of the call, when the call connects to the agent, the line has already been open for 1 to 3 seconds to the customer.
It's important to understand that the first few seconds of the customers voice are lost in the detection analysis, and the agent must start their pitch straight away, without waiting for acknowledgement from the customer who has already been on the line for a while.
Please note: AMD will make a small delay when the call is transferred to agent, so if the transfer speed is crucial then the AMD should be turned off.
To activate AMD, from the admin panel > Overview (1) > Call Robots (2) > Click the Edit-button (3) to open the settings, and choose Answering Machine Detection (4).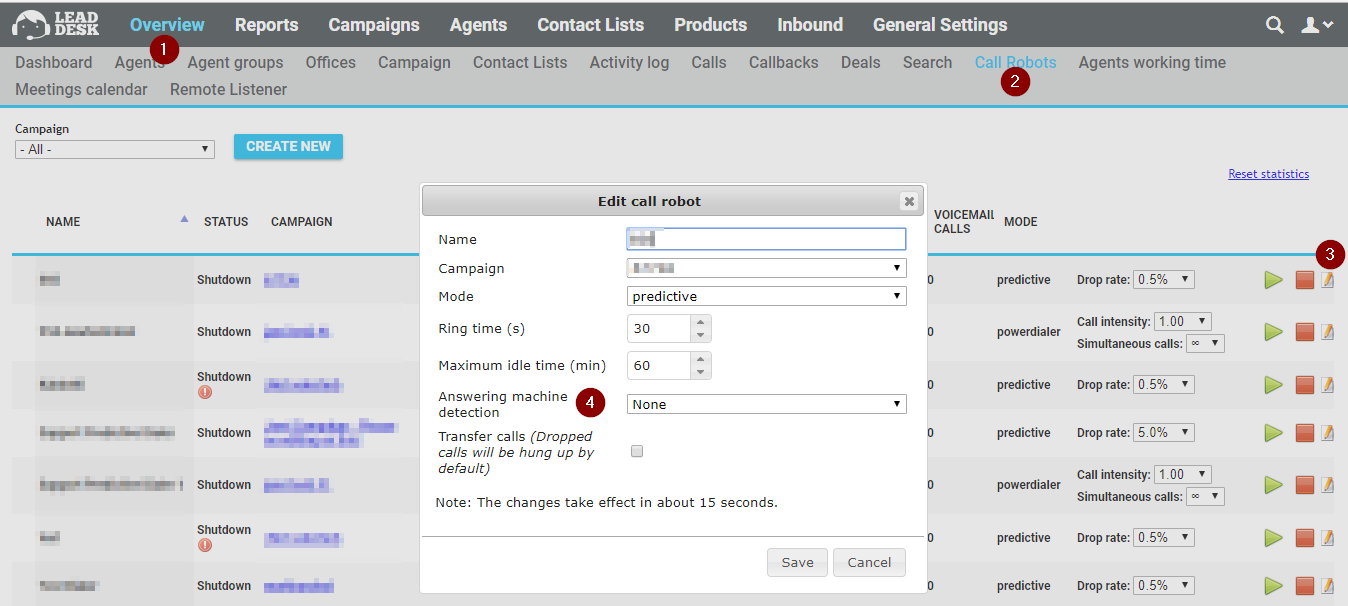 There are three different types of detectors, that differ slightly from one another:
Time-based - By choosing this, you get to set a timeframe, and if customer picks up within that time, it will be considered as answering machine
Simple - This is the most predictable algorithm that has least number of parameters it follows and thus not adapt as well to changes
Intelligent - This one follows more parameters and tries intelligently to adapt to changing scenarios in adapting robot behaviour. Recommended option
Experimental - This has most variation in algorithm behaviour which aims to always deliver the best results but as changes have not been thoroughly tested in all scenarios, there can be drawbacks as well