Inbound queue statistics are crucial for any client that uses queues. That's why we provide you with the perfect tools to easily have an overview of where your incoming calls are coming, how many agents are available etc.
Contents:
Overview
From the Admin > Overview (1) > Inbound queues (2) you'll have a quick overview of all the different inbound channels that you have and how they're currently being used.
Please note that all values reflect today's activity, reports are available in the Reporting tab for long-term statistics.

Statistics
Open - A green circle indicates that the queue is open, red indicates that it is closed.
Queue's number - The source of the queue (typically a phone number or an extension number).
Name - The name of the queue. This can be edited from Inbound > Queues.
Priority - The queue's priority as compared to other queues.
In queue - The amount of callers currently waiting in the queue.
Diverted - The amount of calls that have been diverted (to an agent).
Disconnected - The amount of calls that entered the queue before or after opening hours or the amount of inbound calls that have been forced from the queue (time-out).
If you use a Flow to route calls into your queue, this only concerns calls that have been forced out.
No service - The amount of calls that were in a queue and the customer hang up before reaching an agent (before a time-out is reached).
Failed transfers -

Number of calls that failed during transfer (to agent or elsewhere).

Avg service time - The average time a customer waited in queue before an agent picked up.
Inbound agents online - The amount of agents that are currently online (live) and have the ability (skill points set, and are on the agent's inbound tab) to pick up a call for this queue.
Busy - The amount of agents that are online, but are unable to take a call.
Available - The amount of agents that are online and able to take a call.

Queue specific overview
By clicking on one of the queues, you'll find a second overview underneath the overview of queues.
This table will show you details on which agents are available, their status and duration of the last status. The chosen queue is marked grey.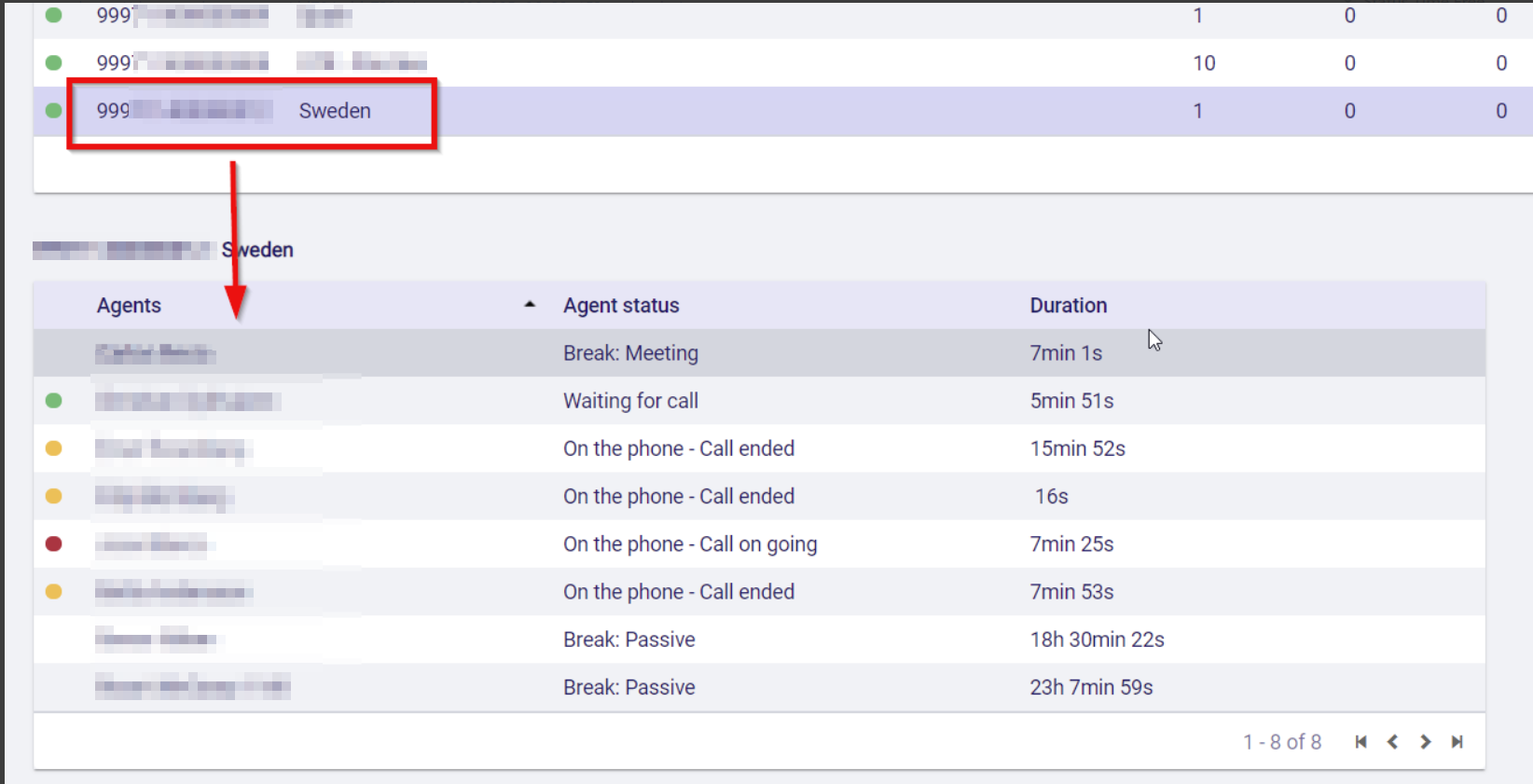 Banned agents and how to unban them
Queue settings allow to set up a "maximum allowed of missed calls" per queue.
If an agent misses that amount of calls, a ban will be placed on that user account. This means that the agent will no longer get any incoming calls (from any queue).
The main purpose is to make sure that new customers are not routed to this agent, but rather to agents that are online, keeping your service level at the highest possible percentage.

To unban an agent:
the agent can log out of the system and log back in.
an admin, manager or teamlead can remove the ban.
From Admin > Overview > Inbound queues > select the queue that the agent is on: you will see an overview of all active agents.
A banned agent will have a grey circle in front of the username and an "Unban" mentioning on the right.
Click on "unban" to remove the ban instantly.