Contact Management allows you to compose new contact lists from old lists, using a variety of different filters.
There will come a time when you want to apply changes to your contact list(s), but you only have use for a proportion of the list. Example: you need all customers living in Postal code X. 
This tool allows you to filter out those options and place them in a different spot with only a few clicks.
From the Admin page: 
1) Open the Contact Lists tab,
2) Open the Contact Management sub-tab,
3) Select one or more lists that you want to work with,
4) Review the amount of contacts available for your selection of lists.
5) Click the "Confirm contact list selection"-button.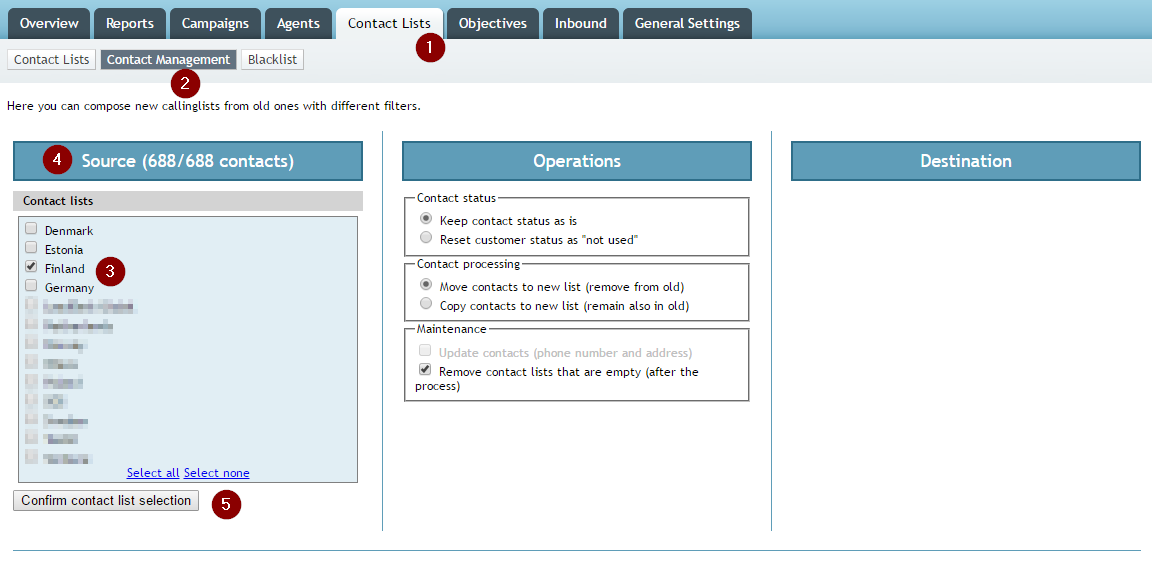 For our example, we'll use a selection where we want all contact cards from Finland, with last call ending reason "Admin" and we want 50 contacts:
1) Click the checkbox "Last call ending reason"
2) Select the call ending reason "admin",
3) Click the checkbox "Max contacts" and fill out 50,
4) Click the "Filter contacts"-button,
5) Review a sample of the selection to see if this is what you were looking for.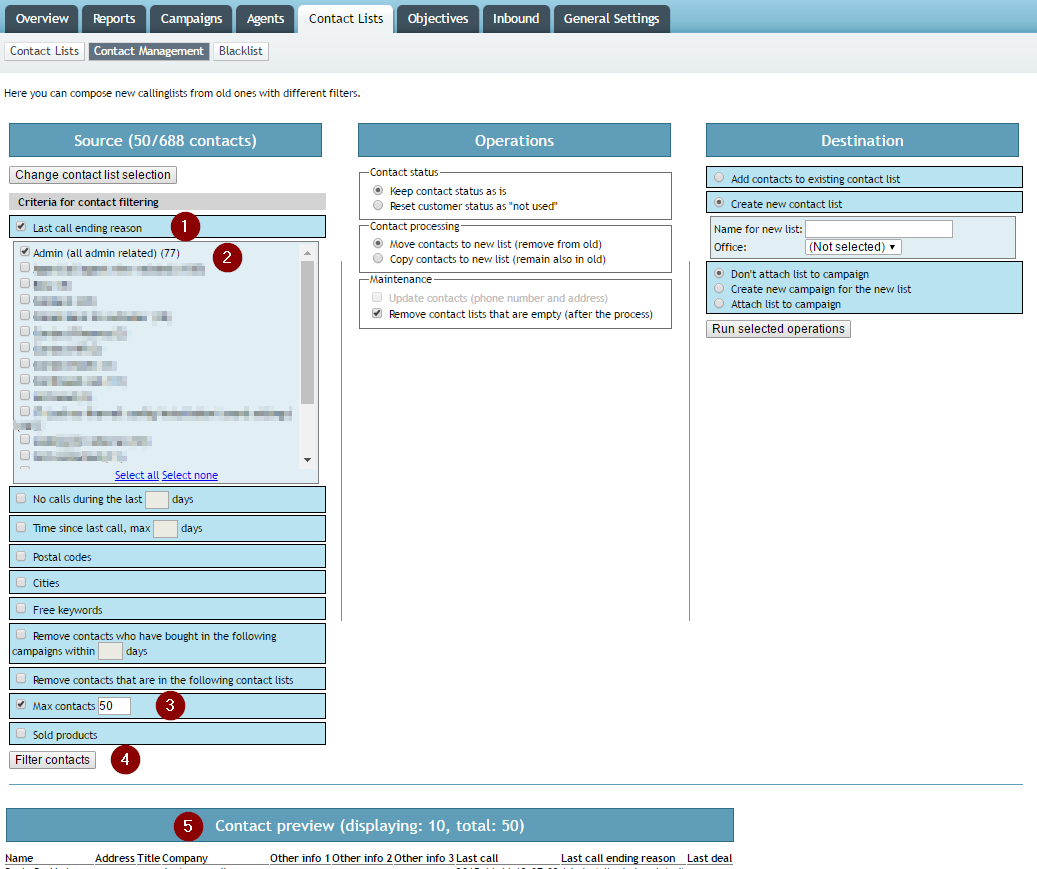 You've now made a selection of contacts which you want to process.
Next you'll need to define what you want to with the contacts and where they should be placed.

From Operations (1)
2) Determine what contact status the contactcards should have (Keep status or reset it to "not used"),
3) Determine whether you want to copy them to a new list or move them from one list to another,
4) Determine if you want to update the contacts and/or if you want to remove the contactlist if there are no contacts left after the process (imagine you move 50 out of 50 to another list, the contact list is useless).

From Destination (5)
6) Determine if you want a new contact list to be made, or if you want to add them to an existing list.
With a new list, you can determine the name (and the office if applicable),
7) Determine if you want to add this contact list to a new campaign, an existing one, or none at all (lists can be added and removed from a campaign at any time you want).
8) Click the "Run selected operations"-button.

When done, you'll receive a pop-up message asking if you want to reset the page "Yes" or "No".
If you select "Yes" the page will reload; if you select "No" your search selection will remain.
You are now ready to use your contacts from the new location.
Different filter options from Source block
Last call ending reason - select the most recently used call ending reason.
Filter per result, select all, select none.
No calls during the last X days - these contactcards have not been called since the last X days.
Time since last call, max X days - these contactcards have been called in the last X days.
Postal codes - all contactcards with postal code X
Cities - all contactcards within city X
Free keywords - all contactcards matching with 4 freely put in values, which should match with any of the standard contactcard fields (example: name, phone number, gender, other info fields).
Remove contacts who have bought in the following campaigns within X days - filters out all contacts that made an "order" within X days.
Remove contacts that are in the following contact lists - allows you to match your current selection versus other list(s) based on phone number, address, company name or VAT number.
Max contacts - Maximum amount of contacts to be filtered out. Filters from the first contactcard available downwards (same way as the list was uploaded).
Sold products - Select contacts that have bought product X.