This article includes essential info for agents about LeadDesk Button features and the interface.
Manual dialing directly from the main view
In the LeadDesk Button main view you select a Campaign to which your call history will be assigned.
Tip: You can also manually enter phone numbers in the white input field. Click Call to dial.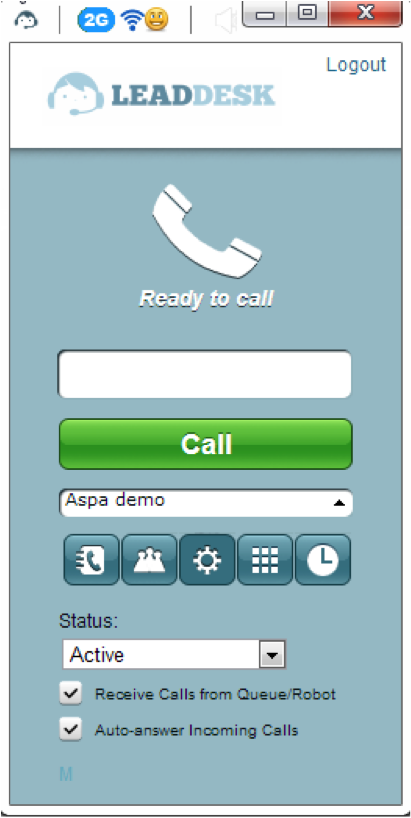 The main view gives you access to more functions via the icons:

Phone Book 
Phone Book enables agents to call direct to contacts that are saved in the Phone Book
Tip: Admins can add contacts to the Phone Book in Admin Panel > General Settings > Phone Book

Free agents 
Free Agents shows your colleagues' current availability
Tip: This enables agents to see who else is available to take inbound calls

Settings 
Settings toggles open settings for Agent Status, Inbound/Predictive call availability and Inbound auto-answer
The Status dropdown menu enables agents to change their status to e.g. Preparing offers, Lunch, Training etc. Tip: Agent Status fields can be edited by admins in Admin > Agents > Manage agent activities
The "Receive calls from queue/robot checkbox" is only visible if Inbound/Predictive Dialer LeadApps are enabled. This makes the agent available for incoming calls from inbound queues, the LeadDesk Predictive Dialer or call diverts.
The "Auto-answer incoming calls" checkbox is only visible if Predictive Dialer is enabled. This enables the agent to automatically answer inbound calls with a short beep sound warning
Inbound and Predictive Dialer are available as LeadApps to immediately deploy to take your contact center to the next level. Contact your LeadDesk representative for more information.

  Settings, inbound enabled 
The Settings icon displays a yellow status indicator if inbound calls are enabled.

Keypad 
The Keypad enables you to deal with IVR systems when making calls with LeadDesk Button e.g. if you are required to "Press 3 to speak to an operator" etc.

Recent calls 
Recent Calls shows you a quick view of your recent call history with call time, duration and all result. Tip: Your administrator has access to advanced monitoring and reporting of your call history.

Recent calls, unanswered inbound calls
The Recent calls icon displays a red warning indicator if there are unanswered inbound calls