This article covers how to reset your password, in case you've forgotten or lost it. The new password will be sent to your email. An administrator needs to turn this feature on.
Contents:
The feature will work for administrators by default, because they are required to have an email address filled in. Granted that they don't use the same email for multiple accounts (for example, for both an agent and an administrator account), they can recover the password with this feature. However, for agents to be able to use this feature, the following requirements need to be met:
Feature needs to be turned on by an administrator from the Agent settings
The agent card needs to have an Email filled in
The same Email can't be used for multiple accounts
Resetting your password
On the login page, you'll have a text below the password field (Fig.1) that takes you to the password recovery page (Fig. 2). There, just fill in your Email (1) and press the Send-button. You will get an email with as password reset link. After clicking that, you get to fill in your new password (Fig. 3). Then press the Save button and you're ready to go.
Fig. 1                                                                                Fig. 2

Fig. 3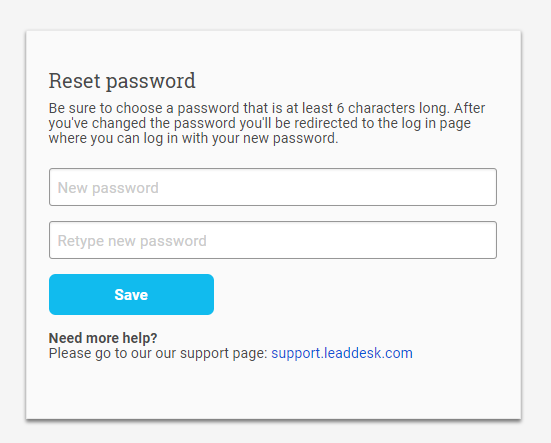 Turning on the feature for agents
To turn on the feature, from the admin panel, go to Agents (1) > Settings (2).
Check the feature "Password can be changed by agent from settings"
Press the Save-button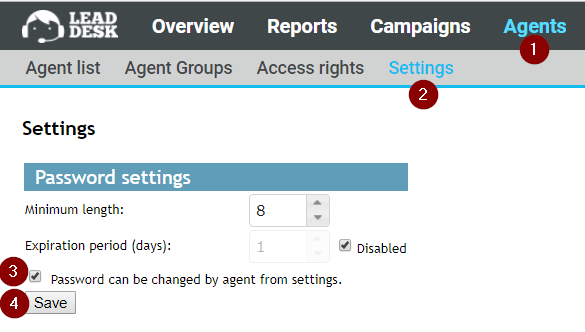 Also, make sure that you have filled in the agents email address in the agent card:
Go to the Agent list
Fill in the agents Email address
Press the Save-button