Callbacks are an important part of LeadDesk, that allows you to easily keep in touch with your customers.
Contents:
Under Admin > Overview (1) > Callbacks (2) you will see an overview of all callbacks in the system.
The top part shows Private callbacks, and the lower part holds the Public callbacks.
Calling time - Timestamp when initial call was created
New time - Callback date (and time, if specified)
Agent - This differs on Private and Public. On Private callbacks, this shows whose callback it is. On Public callbacks, it shows who created the callback.
Number - The number that will be called with the callback. If not filled in when creating the callback, the number that was originally called will be used.
Customer name - Name of the customer (pulled from the contact card, so for this to work the contact card needs to be filled and saved)
Company - Name of the company, if any.
Campaign - Callbacks are campaign specific, this shows which campaign the callback belongs to
Comment - Agents can write a callback comment. If they have, it will show here.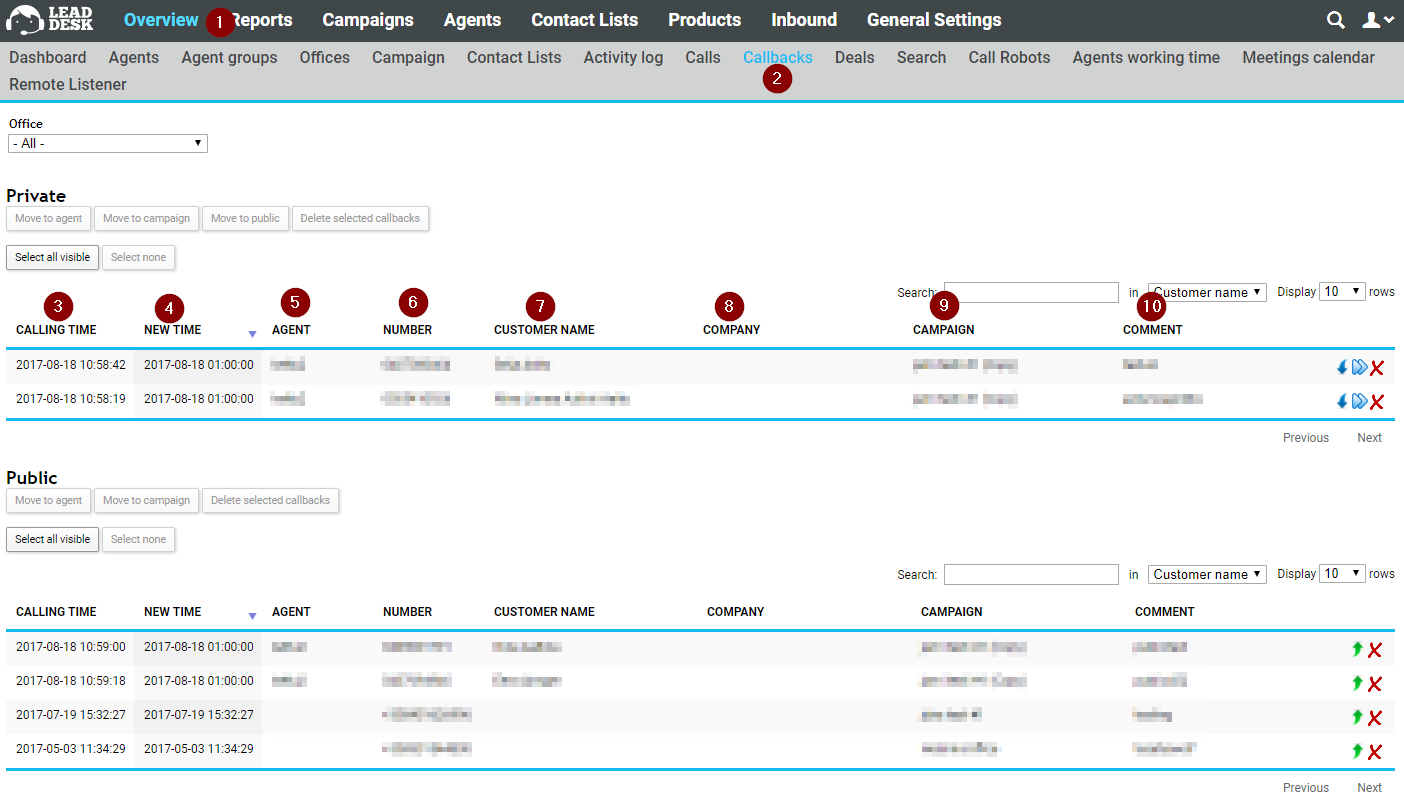 Moving callbacks
Above both the Private and Public you have buttons that allow you to assign, move and delete callbacks. To do this, you first need to select the callback by clicking on the row. To select multiple rows at once, either hold ctrl and click on multiple rows, or use the Select all visible-button, see below. Then you just click on the appropriate button. Note that the buttons are separate for Private and Public callbacks, and it doesn't matter if you have selected callbacks when pressing buttons that affect Private callbacks and vice versa.
Here's an overview of the buttons and their functions:
Move to agent - opens a window where you can assign the callback to any agent. Note! If this is done on a Public callback, it will change to a Private callback.
Move to campaign - opens a window where you can move the callback to any campaign have in your system
Move to public (only for Private callbacks) - Immediately moves the callback from Private to Public
Delete selected callbacks - Removes callbacks that you have selected. WARNING! 

You will not get any confirmation box when doing this, they will be deleted right away.

Select all visible -

 Used to easily select all callbacks under either Private or Public callbacks.

Select none -

 Resets the selection to none

Deleting callbacks

There's two ways to delete callbacks. Note that there's an important difference between these two, described below. You can delete callbacks by either
selecting the callback by clicking the row, then pressing the Delete selected callbacks-button, or

by clicking on the red cross on the far right on the row.
If you use option 1. the callback will be deleted without any questions asked. This is the only way you can delete multiple callbacks at once. If you instead opt to use option 2., LeadDesk will ask for a confirmation if you're sure that you want to delete the callback, and also if you want to restore the contact to the contact list. This option is not available for choosing when using option 1.