Overview
To create or manage accounts for Admins, Managers, Teamleaders or Agents, you can go to the Admin > Agents (1) Agent list (2) section.

The difference between the different accounts:
Admin: has full access rights on the Admin page, but cannot make calls.
Manager: a default manager account has full access rights, but an admin can put limitations on what the manager can see on the Admin page (per sub tab). A manager cannot make phone calls.
Teamleader: a default teamleader account has full access rights, but an admin can put limitations on what the teamleader can see on the Admin page (per sub tab) and per office. A teamleader cannot make phone calls.
Agent: can make phone calls from the Agent view. Has no access to the Admin page.
Tip: if you have an existing account that you're happy with, you can copy an account by clicking the menu icon (3) on the right side of the existing account, and then selecting "copy" (4)
Create and edit user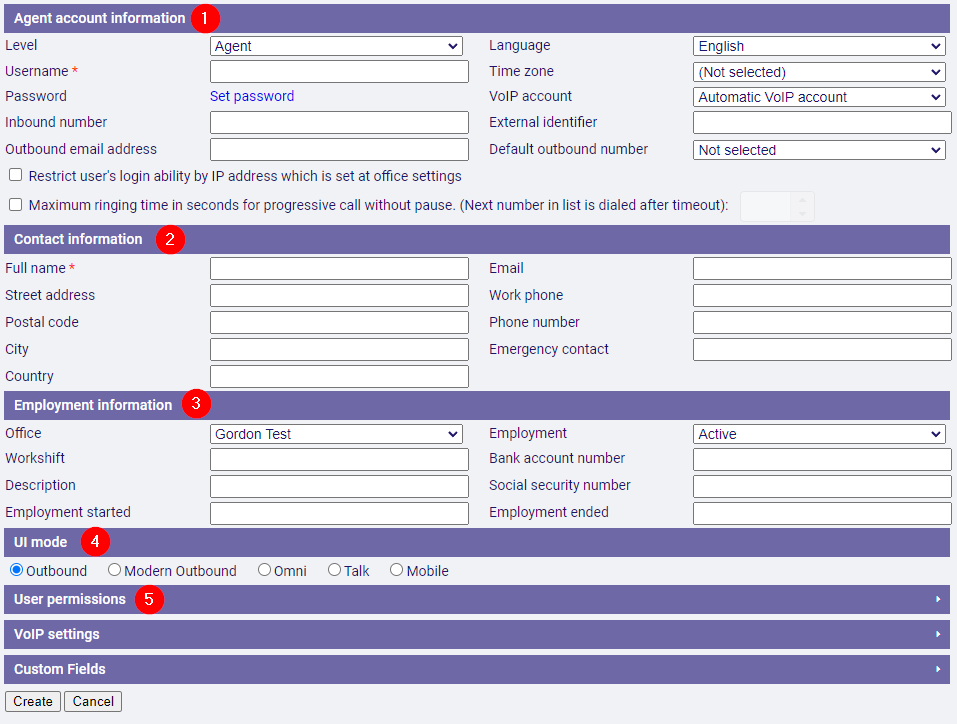 Agent account information (1):
Level for the account: admin, manager, team leader or agent.
Username and temporary password.
Inbound number: this will be filled in automatically when the agent logs in.
Outbound email address: Used by Templates when sending messages to contacts.
Language: this determines the interface language for the Admin/Agent view.
Time zone: this will the timezone in the interface for Admin/Agent view.
VoIP account: by default this is set to "automatic VoIP", meaning that you're using LeadDesk VoIP.
If you've inserted SIP accounts from the General Settings > VoIP, you can select them from here.
Should you not be able to see them from the drop-down, please contact our Support staff.
External identifier
Default outbound number: here you can select which outbound number is shown when an agent calls out. This can be overwritten however from the Campaign Optional settings.
Restrict user's login ability by IP Address which is set at office settings: when checked, it will apply log in limitations as set from General Settings > Offices (click link for details).
Maximum ringing time in seconds for progressive call without pause (Next number in list is dialed after timeout): from automatic calling, the ringing time for a specific call will be limited to the set amount of seconds in this field. This means that the agent cannot keep on ringing a number, potentially increasing productivity.
Contact information (2):
Person's real name and contact information
Please note that if you set a voicemail, you'll need to set an e-mail from in this section, as the voicemail messages will be send to this e-mail via attachment.
Employment information (3)
Office: an office can be defined from the General Settings > Offices and selected from here.
Offices don't necessarily need to refer to physical locations; they can allow you to split your colleagues into teams as well.
Workshift: you can define the colleagues workshift times from here.
Description: free input field for extra information.
Employment started: field to set a date for when the agent started his/her employment with your company.
Employment: either "active" or "inactive". Setting the account to inactive will block the person from logging in, but won't remove the person from your system.
Bank account number: field to fill out colleague's bank account number.
Social security number: field to fill out social security number.
Employment ended: field to set a date for when the agent ended his/her employment with your company.
UI mode (4)
When you have more than one UI mode activated, you can select the agent's UI mode here
Please note that this section is replaced with "Profiles" if you are using that Add-on (see separate section)
User permissions (5) for Agent
User permissions is a clickable section for agents, team leaders and managers. This differs per role.
View permissions

These refer to the different tabs in the Agent view (top). Unchecking one of these will remove the tab from the Agent view.

Functional permissions

Can listen to call recordings - Allow agents to listen to call recordings in the Agent UI
Allow users to choose queues they want to serve - Agent's can pick their queues at will form the Agent UI

User permissions for Teamleader/Manager:
View permissions: refers to all the main-/sub-tabs from the Admin panel which can be disabled by unchecking their boxes.
Functional permissions: allows you to limit basic functionality though it still allows the account user to visit the specific section.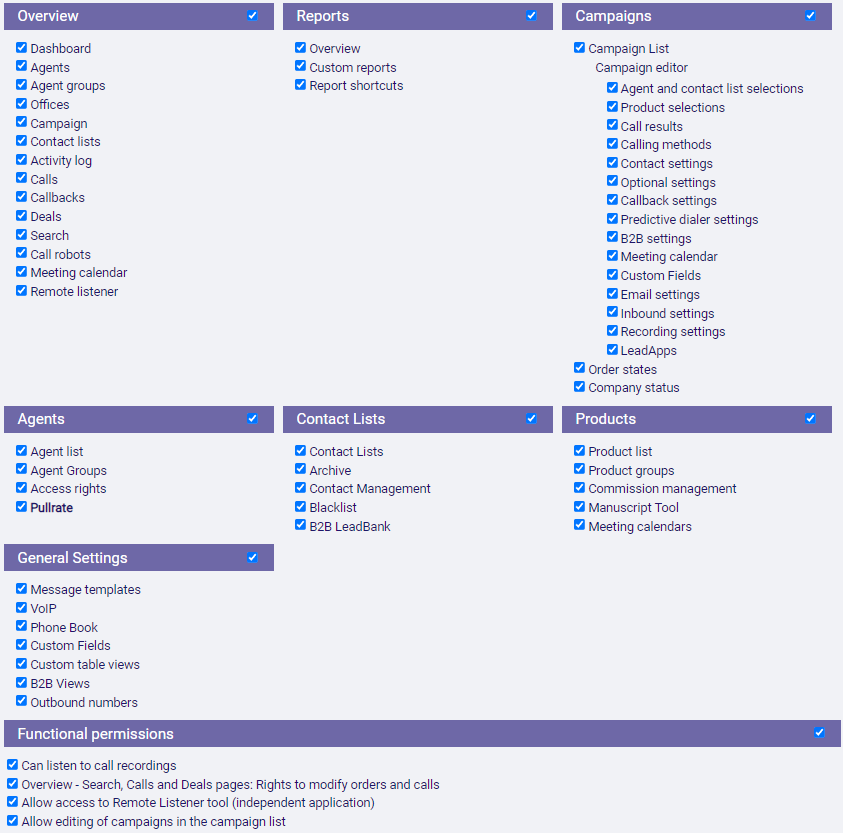 Besides this, Managers can also be allowed to access these parts of Admin:
Campaigns > Settings
Agents > Settings
Inbound settings
General settings > Offices, Sponsors, Global call ending reasons, Global Settings